What a weird night it was in the NBA, which we say because of three shot charts the likes of which we may not see from any of these players again.
Tim Duncan's worst game ever
Tim Duncan was 1 for 12 from the field in the San Antonio Spurs' 92-79 win over the Washington Wizards.
That is the worst field-goal percentage for Duncan in any game (regular season or postseason) in his NBA career (which encompasses 1,187 regular-season games, 211 playoff games).
And here's a weird quirk: Prior to Thursday, the last three teams whose players made no shots or one shot and finished with at least a dozen shots from the field in a regular-season game all won, just as the Spurs did (the players were O.J. Mayo, Ricky Rubio and Damian Lillard).
But that's not typical. Over the last three seasons, teams with a player who shot 1-for-12 or worse in a game went 7-18.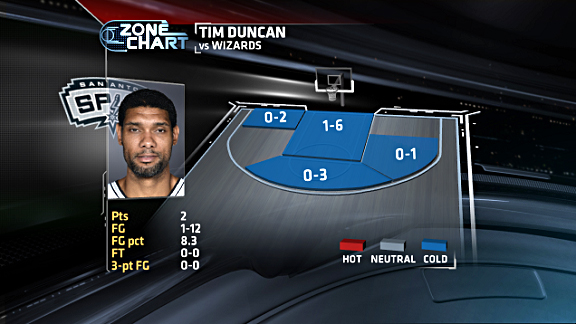 Afflalo emulates Kidd
Orlando Magic guard Arron Afflalo had a career-high 36 points, eight rebounds, six assists and eight 3-pointers.
No player had hit that combination of benchmarks in a game since Jason Kidd against the Rockets on April 11, 1995 (the end of his first NBA season).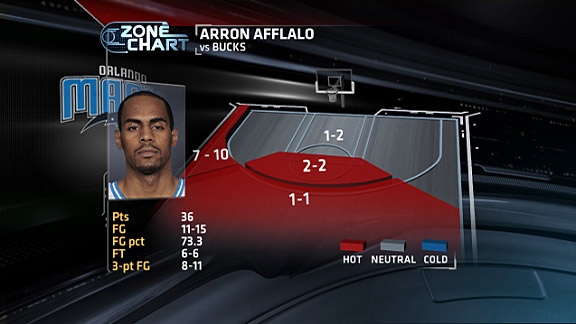 Journeyman James dominates
Philadelphia 76ers guard James Anderson entered the day averaging 3.9 points in his 124 career NBA appearances. He had never even scored 20 in an NBA game, but on this day, he'd finish with a career-high 36 points and made a game-tying 3-pointer late in the fourth quarter.
James should also thank teammate Tony Wroten for his help. The Elias Sports Bureau noted that Wroten became the first player to have a triple-double in his first start, since starts began being fully documented in 1970.