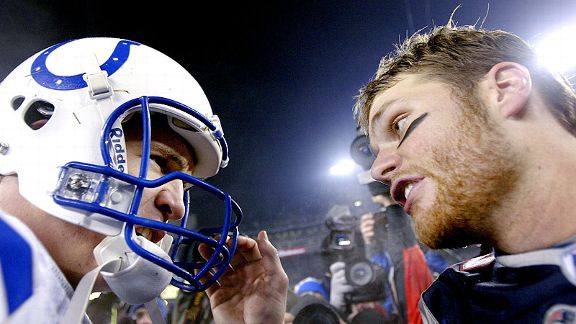 USA TODAY Sports
Can Peyton Manning reach Tom Brady's record of 50 passing touchdowns in a season?Through the first 10 games of the season, Denver's offense has put on a scoring clinic. Peyton Manning's has more passing touchdowns (34) than any other team has total touchdowns.
Manning
Manning has capitalized on consistency from the top offensive threats at his disposal, posting gaudy stat lines that aren't usually seen outside of video game consoles.
One quarterback who does know what that's like is Manning's opponent Sunday. In 2007, Tom Brady set a record with 50 touchdown passes for the Patriots, and put together a season voted best in QB history by a Stats and Information panel in October.
Let's break down a few components of each player's season -- 2007 Brady versus 2013 Manning -- and answer the big question: Can Manning reach Brady's touchdown record?
Overall passing production
Though he never threw seven touchdown passes in a game like Manning did in Week 1, Brady had at least three TDs in all 10 games to start his 2007 season. Manning has had three games with two touchdowns or fewer this season, including only one against the Chiefs on Sunday.
Manning has thrown for 3,572 yards so far, more than 500 yards past Brady's total through 10 games. In fact, three quarterbacks currently have more yards than Brady's 3,059 -- Manning, Drew Brees and Matthew Stafford -- through 10 games played.
One area both quarterbacks shined in was limiting interceptions. Manning threw six in 409 attempts (1.5 percent), while Brady threw four in 338 attempts (1.2 percent). Both percentages ranked third in the league.
Deep ball
Passing 20-plus yards downfield
through first 10 games
No one in 2007 had more touchdowns or a higher completion percentage on throws at least 20 yards downfield than Brady.
Among the eight quarterbacks with a better downfield completion percentage than Manning this year are Matt Schaub, Geno Smith, Mike Glennon and Nick Foles.
Supporting cast
A glance at the rushing support would seem to favor Manning's squad. Knowshon Moreno has 600 yards this season, well above Brady's leading rusher through 10 games (Laurence Maroney, 436).
But when the Patriots ran, they did so effectively, with three rushers who averaged more than 4.5 yards per rush with at least 40 rushes.
Receiving through 1st 10 Games of Season
New England's 4.2 yards per rush ranked 10th in the league in 2007, while Denver's 3.6 ranks 28th this season.
As a result, Manning has accounted for 78.4 percent of his team's offensive yards, well above Brady's 70.0 percent.
So Manning is doing more with less, right? Not so fast.
Broncos receivers have averaged a full yard after the catch more than the 2007 Patriots did.
Will Manning (or anyone) reach 50?
Manning is 16 touchdowns shy of Brady's mark with six games to play, needing to average about three per game to break 50. For Manning that seems almost likely, until you look at his remaining six opponents, which have allowed an average of 1.4 passing touchdowns per game.
But even if it's not Manning, someone soon will break Brady's record of 50 passing touchdowns in a season. Even only six years removed from the 2007 season, there's an era adjustment argument to be had about quarterback stats.
For example, harsher penalty enforcement has largely favored offenses. Consider this:
• Through the first 11 weeks, there have been 271 defensive pass interference, illegal contact or defensive holding penalties this season. In 2007, there were 193.
• There have been 226 unnecessary roughness, roughing the passer, horse collar and 15-yard face mask flags so far this season. Through Week 11 in 2007, there were 141.
Penalties won't help the yardage necessarily, but certainly the touchdowns. What does help both yardage and touchdowns are limitations on tackling in practice that have opened up the game for receivers to make plays after the catch.
This season, receivers are averaging 5.35 yards after the catch per reception, highest of the last eight seasons and 0.7 yards more than in 2007. Even if Manning doesn't get there this season, someone will eventually.