Chris Farina/Top Rank
Superstar Manny Pacquiao (R) wins a 12-round unanimous decision over Brandon "Bam Bam" Rios at The Venetian Macao Resort in Macau,China.
Manny Pacquiao defeated Brandon Rios by unanimous decision (120-108, 119-110, 118-110) in Macau, China Saturday night in his first fight since being knocked out by Juan Manuel Marquez last December. From the opening bell, Pacquiao used his power and quickness to outland Rios. Over the first six rounds of the fight, Pacquiao landed 117 power punches, four more than Rios would land the entire fight, according to CompuBox.
Pacquiao was effective throwing punches to the head, landing 241 of 281 punches, according to CompuBox, to Rios' face. According to ESPN Stats & Information video tracking, 146 of those punches landed on the right side of Rios' head, as seen in the graphic below.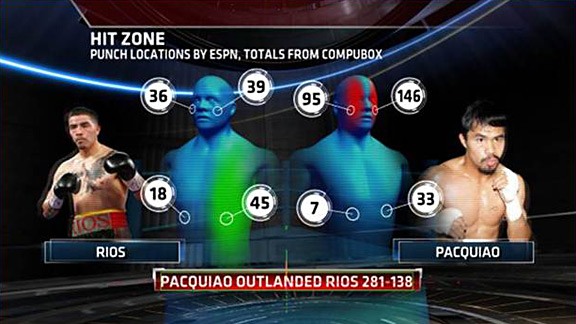 ESPN Stats & Information
Pacquiao vs Rios Saturday
Going into the fight, Pacquiao averaged a 47 percent connect percentage with his power punches and that number was right on target Saturday night, with "Pacman" landing 48 percent on Rios (223 of 468) according to CompuBox. While Pacquiao was able to work his power punches on Rios with combinations, "Bam Bam" could not get his power punches working nor could he land combinations. Pacquiao outlanded Rios with power punches in every round but the 8th, where the California native held a 14-9 advantage.
Rios was neutralized by Pacquiao throughout the fight, leading to the lopsided score. Rios is most known for his high-punch output that was seen in his last two fights with Mike Alvarado. Against Alvarado CompuBox calculated that Rios landed 161 punches (144 power) over seven rounds to win by knockout. In the rematch this past March, Rios landed 241 punches (182 power) over 12 rounds in a unanimous decision loss. Yet, against Pacquiao he was unable to get off punches. Rios landed 29 percent of his punches (avg. 34 percent over his past six fights) Saturday, and offered far less in terms of punch output. He threw 42 punches per round, far below his 74 punch output per round over his past six fights, according to CompuBox. In terms of power punches, Rios only threw 22 per round, landing double digits in just five of 12 rounds. According to CompuBox, Rios came into Saturday's fight averaging 54 power punches per round.
Pacquiao had no problem getting off shots. According to CompuBox, "Pacman" threw an average of 69 punches per round over his last nine fights and landed 24. Saturday night against Rios, Pacquiao was at 66 punches per round, landing 23. Pacquiao' s control of the ring and his precision inflicted damage to the head of Rios as seen in the graphic above, helping the Filipino champion gain points on the scorecard en route to the unanimous decision. Although "Pacman" didn't get a knockout for the seventh consecutive fight, he showed the power and speed that made him one of the pound-by-pound fighters of the 21st century.