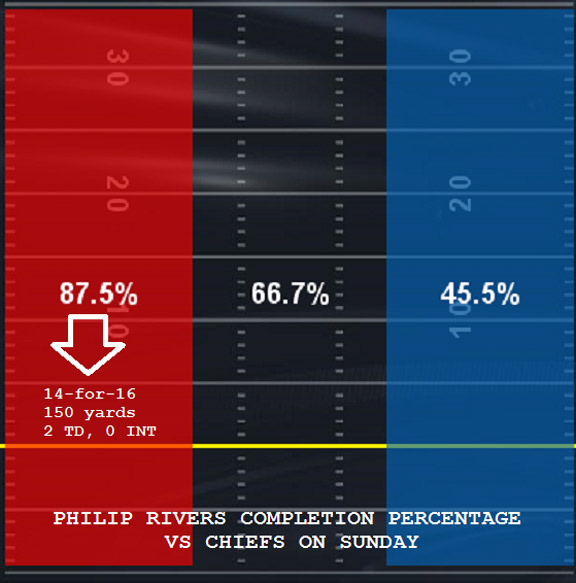 Philip Rivers excelled at throwing to the left side of the field in Sunday's win.What were the biggest keys for the San Diego Chargers' in their 41-38 upset of the Kansas City Chiefs?
Rivers makes it work
Rivers completed 11-of-13 passes for 199 yards (15.3 yards per attempt) on third downs, including a crucial 12-yard completion to Antonio Gates on third-and-10 that moved the chains on the game-winning drive.
No Shortage of Exciting Games
Rivers had completed only 42 percent of passes on third down during the Chargers' three-game losing streak.
Rivers also excelled at picking on the Chargers on the left side of the field, as noted in the image atop this story.
Slowing Chargers down after the catch an issue for Chiefs
The Chargers gained 228 yards after catch on Sunday, their highest total in a game this season and the first time Kansas City allowed more than 190 in a game in 2013.
The Chargers recorded at least 10 yards after the catch on 10 different receptions, joining the Packers (Week 2 vs Redskins) and Steelers (Week 9 vs Patriots) as the only teams to do that this year.
Ladarius Green gained 45 yards after the catch on his 60-yard touchdown catch in the fourth quarter. Kansas City's defense has allowed at least 45 yards after the cartch on three plays this year- only the Rams (four) have more.
An unusual win for the Chargers,
an unusual loss for the Chiefs
Entering this week, since the AFC and NFC merged, teams allowing 38 points or more on the road were 23-751 (an .030 winning percentage).
The Chargers had lost 25 of their last 26 regular-season games in which they allowed at least 38 points on the road.
The 38 points scored by the Chiefs matched their most ever in a home loss.
Stat of the Day
Rivers now has four games this season in which he's thrown for at least 390 yards. That ties the most for any quarterback in a single season. Dan Marino had four for the Dolphins in 1984. Joe Montana had 4 with the 49ers in 1990.