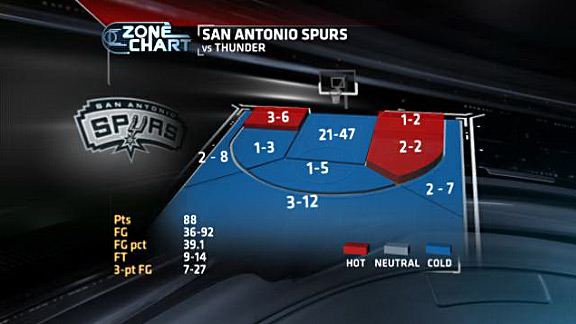 The Spurs had a rough shooting night in their loss to the ThunderThe Elias Sports Bureau noted that Wednesday marked the first time in NBA history that a pair of winning streaks of 11 or more games ended on the same day.
What were the keys to victory for the Oklahoma City Thunder and the Phoenix Suns in stopping the 11-game winning streaks of the San Antonio Spurs and Portland Trail Blazers?
For starters, Thunder in control
Spurs Last 12 Games
The Spurs starting five (Tim Duncan, Kawhi Leonard, Tiago Splitter, Tony Parker and Danny Green) was outscored by eight points in its time on the floor.
The Thunder's starting lineup (Kevin Durant, Serge Ibaka, Kendrick Perkins, Thabo Sefolosha and Russell Westbrook) outscored the Spurs by seven when on the floor together.
Jackson delivers
On a day in which Durant and Westbrook were a combined 12-for-39, Reggie Jackson came off the bench to match his career high in scoring with 23 points in 26 minutes, on 10 of 14 shooting from the field.
Jackson is 19 for 29 from the field in his last three games, including 15 of 21 on his shots in the paint.
Dragic at his best
Goran Dragic had 31 points and 10 assists for the Suns. It is the second 30-10 game of his NBA career. Dragic was one point shy of tying his career high. He's averaging 22.6 points in his last five games.
Dragic is 8-for-16 in this five-game stretch on 3-pointers taken between the wings (in other words, straight-on, or close-to-straight-on shots. He opened the year by making only 1 of his first 8.
The Suns have gotten the most out of Dragic all season, averaging 109 points per 100 possessions with him on the count, compared to 96 points per 100 possessions with him off the court.
Frye high
Channing Frye was 10 for 12 from the field, including a perfect 7 for 7 from 2-point range. That marks the best perfect shooting day from 2-point range in his career.
He's also now 14-for-29 from 3-point range in his last four games.