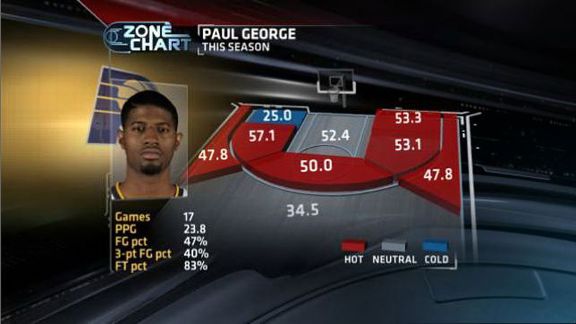 ESPN Stats & Information
Paul George has been efficient all over the court this season.The top team in the West meets the top in the East as the Trail Blazers host the Pacers at 10 Eastern.
The two teams have combined to win 88.2 percent of their games so far this season. According to the Elias Sports Bureau, that's the highest combined winning percentage for two teams at least 15 games into a season since the 16-1 SuperSonics took on the 18-1 Rockets on Dec. 11, 1993.
Indiana Pacers
So far this season, the Western Conference is 57-23 against the East. However, the Pacers have won all four games they have played outside the East, including a win at the Clippers to start their current five-game Western swing.
The Pacers are the 13th team in NBA history to start the season with a 16-1 record, and first since the Mavericks in 2002-03. Seven of the previous 12 made it to the Finals, with five winning the championship.
Thanks to the Pacers defense, most of their games haven't been close. Indiana allows only 86.5 points per game, five fewer points than any other team in the league. And their average margin of +11.0 points also leads the NBA.
On the offensive side, Paul George is fourth in the league in scoring at 23.8 points per game. As you can see from the shot chart at the top, he is hard to contain since he is an above average shooter from several areas on the court.
Portland Trail Blazers
The Trail Blazers lost two of their first four games, but have won 12 of their last 13 games to match the Spurs for the best record in the Western Conference.
Portland is one of four teams in the NBA to have two players averaging at least 20 points per game. LaMarcus Aldridge has been the hotter hand over the last week, averaging 24.8 points and 12 rebounds per game in the last four games.
Damian Lillard has been just as good in his sophomore campaign as he was as a rookie last season. But so far this season he has struggled inside the three-point line. He has a better shooting percentage on three-pointers (40.0 percent) than inside the arc (39.1 percent).
In fact, Portland as a team is better relatively from long range. The Blazers are third in the league in three-point shooting, making 41.4 percent of their shots. Their overall field goal percentage of 45.2 percent is 15th in the league.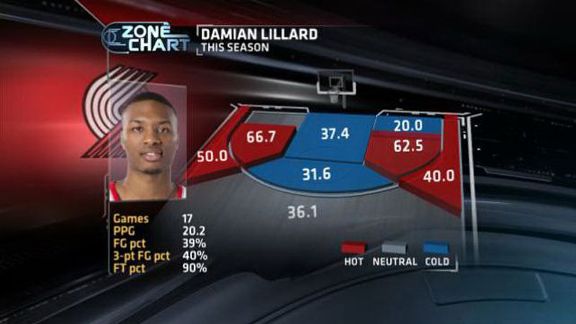 ESPN Stats & Information
Damian Lillard has shot better on three-pointers than inside the arc this season.