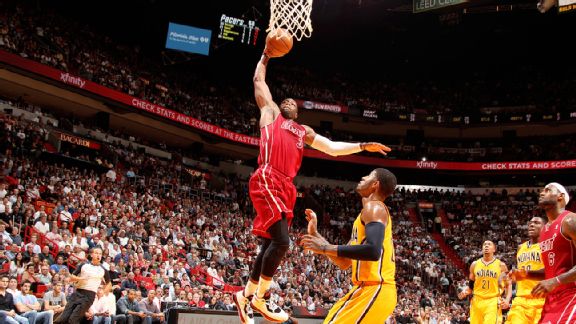 Issac Baldizon/NBAE/Getty Images
Dwyane Wade scored 24 of his game-high 35 points in the paint.After trailing by as many as 15 points, the Miami Heat rallied late and closed on a 12-2 run to even their season series with the Indiana Pacers at one apiece.
Dwyane Wade led all scorers with a season-high 32 points, making 15 of 25 from the field. It was his 202nd career 30-point game, fourth among all players since he entered the league in 2003.
Most of Wade's scoring came in the paint, where he scored 24 points on 18 attempts. It's Wade's most points in the paint in a single game since scoring 28 against the Minnesota Timberwolves on March 4 last season.
LeBron James overcame early foul trouble -- he was whistled for a season-high three fouls in the first half -- to finish with 24 points, nine rebounds and seven assists.
Final 3:10, Wednesday
Chris Bosh added 15 points, including the 3-pointer that tied it at 92 during Miami's game-ending run. Overall, the Heat's Big Three combined for 71 of Miami's 97 points, and shot a combined 57 percent from the field.
For the Pacers, in what's become typical fashion, Paul George ramped up his scoring after halftime. The NBA's best second-half scorer this season had 18 of his team-high 25 points after halftime.
George fared better when he was guarded by someone other than James on Wednesday. With James defending him, George was 3-for-9 from the field with six points and two turnovers. Against everyone else, he scored 19 points on 5-for-7 shooting with one turnover.
Roy Hibbert entered the game averaging nearly 19 points the past two seasons against the Heat, but struggled with foul trouble as well, drawing his fifth foul with 8:34 remaining in the third quarter. He finished with six points in 23 minutes, his second straight game with fewer than 10 points.
Maybe not surprisingly, with their best rim protector battling foul trouble all night, the Pacers allowed a season-high 50 points in the paint.
The loss was the Pacers' first this season when leading after three quarters. Prior to Wednesday, they had been 18-0 in such situations.