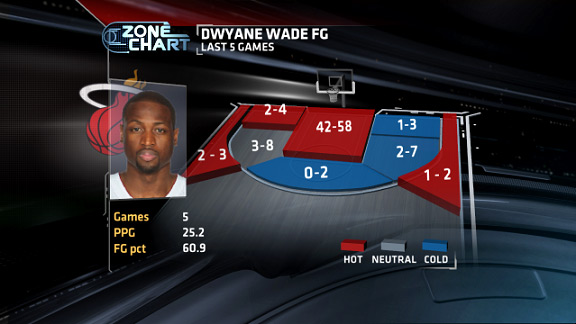 The Miami Heat put a six-game winning streak on the line tonight at the Sacramento Kings (10 ET).
One of the key contributors to the streak has been Dwyane Wade. Here are five numbers to know on his current five-game hot streak:
25.2: That's how many points per game he's averaging, up from 18.4 in his first 16 games. It's the first time this season he's scored 20 points in five straight games.
60.9: That's Wade's field goal percentage in his last five games. He's made at least 55 percent of his shots in each of those games. That's tied for the longest streak of his career, which he's done three previous times.
16.4: That's how many paint points per game he's averaging in this hot stretch. Wade scored 20 points in the paint on Christmas, his second-most in a game this season. Wade leads all NBA guards with 10.9 points in the paint per game this season.
5.6: That's how many points per game Wade has scored on post-ups in the last five games, more than double his average of 2.6 post-up points per game in his first 16 games. Wade is shooting 56 percent from the field on his post-up shots during this stretch.
56.7: Looking ahead to tonight's game and Wade's chances of extending his hot streak, this number is Wade's career shooting percentage against the Kings. It's his best field-goal percentage against any opponent.