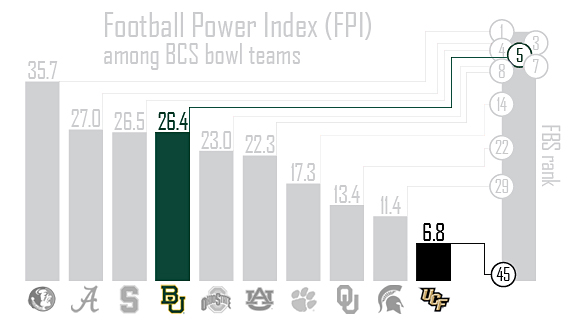 ESPN.com's Football Power Index (which rates the relative strength of teams) ranks Baylor
well ahead of UCF. Full FPI analysis can be found hereOne of the neat things about the Baylor-UCF matchup in tonight's Fiesta Bowl (8:30 pm ET) is that it pits two teams who wouldn't have been thought to be in this game when the season began.
What other stats are of note for this contest? Here's a look:
1-- Baylor's 11 wins and 639 points are its most ever. Its eight conference wins were its most since 1980.
Baylor looked like it was on its way to setting FBS records for scoring and offense, averaging 61 points per game in its first nine games, but slowed down the last few games of the season and averaged only 29 per game in its last three.
With a win, it will be the first time since 1923 that Baylor finished a season with fewer than two losses (5-1-2 that year).
2-- UCF has won eight straight games, but struggled down the stretch to get there. The Knights managed just 296 total yards in a three-point win over lowly South Florida, then squeaked by 5-7 SMU by scoring just 17 points. Both wins required second half comebacks.
That said, UCF is a three-point loss to South Carolina away from being 12-0 this season, and the Knights led 10-0 in that game back on Sept. 28.
UCF has never beaten a team from the current Big 12 Conference, going 0-5.
The program is looking for its first 12-win season in school history.
3—- The Bears score and score quickly. Baylor has scored 57 touchdowns on drives that lasted 2 minute or less, the most by any team in the past 10 seasons and nine more than any other FBS team in 2013.
Baylor's offense has received most of the attention, but its defense also ranks fifth in ESPN's Defensive Efficiency Ratings after ranking 74th last season. The Bears' increase in the ratings is the largest for any team this season.
Quarterback Bryce Petty finished seventh in the Heisman voting, throwing for nearly 4,000 yards and throwing only two interceptions in 356 attempts. He currently ranks sixth in the nation in Total QBR.
4-- UCF has had six second-half comebacks this season, tied for the most in the FBS with Northern Illinois.
UCF Second-Half Comebacks
This Season
In three of UCF's comeback wins, the Knights had a 10 percent or lower chance of winning.
Only San Diego State had more such wins (4) this season.
Quarterback Blake Bortles had the second-highest QBR when trailing in the second half or overtime this season, bettered only by Louisville's Teddy Bridgewater.
5-— Stats of the Day: This marks the first time since the 2007 Orange Bowl (2006 season) that both opponents are making their first ever appearance in a BCS bowl (Louisville beat Wake Forest that year).
This matchup also features two teams that weren't ranked in the Preseason AP Poll. Only two other teams advanced to BCS bowl games this season without being ranked in the preseason poll – Michigan State and Auburn.