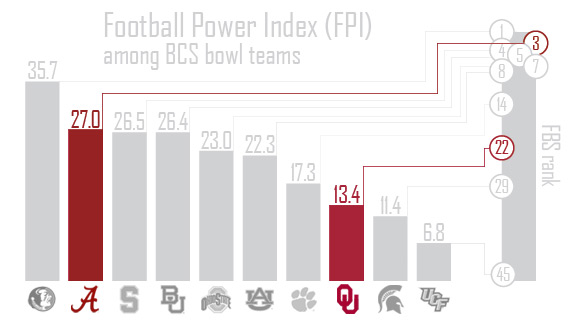 ESPN.com's Football Power Index (which rates the relative strength of teams) ranks Alabama
well ahead of Oklahoma. Full FPI analysis can be found hereThe Allstate Sugar Bowl pits two of the premier programs in the history of the sport. What are the top stats to know in this Oklahoma-Alabama matchup?
1. These are two of the winningest programs in bowl history. Their combined 61 bowl wins are the most by any two teams in a bowl game. Alabama's 34 are the most of any team.
2. The Alabama defense, even after allowing 393 yards in the loss to Auburn, is one of the stoutest in the country by both traditional and advanced measures. It ranks second in the country in points allowed per drive, percentage of drives ending in a touchdown or field goal, and points per game.
If Oklahoma coach Bob Stoops gets aggressive and goes for it against Alabama on fourth down, watch out. Alabama is allowing just a 22.2 percent conversion rate (4-for-18) on fourth down this season, tied for the best in the FBS.
But there's an interesting breakdown within that: On fourth-and-4 or longer, opponents are 0-for-10. On fourth-and-3 or shorter, opponents are 4-for-8.
3. The Oklahoma quarterback picture remains in flux. Stoops has said the call between Blake Bell and Trevor Knight will be a game-time decision. Both have been injured at various points during the season, but it was Bell who led the game-winning drive in Oklahoma's Bedlam rivalry win against Oklahoma State.
Total QBR gives Bell the edge this season (his is 56.7; Knight's is 46.7), though Knight has been much more effective as a rusher, averaging better than 7 yards per carry.
The Sooners have traditionally been a pass-happy offense under Stoops, but they have a different identity this season.
Oklahoma Offensive Identity
They're averaging 235.8 rushing yards per game, the most by any Oklahoma team in the Stoops era. That's 25 rushing yards more per game than the previous high (208.4 in 2004).
Stoops, by the way, has "hit for the BCS cycle": He's reached all four BCS bowls and the BCS National Championship. He is the only coach to do so since the BCS began in 1998.
4. For Alabama's AJ McCarron, one of the most successful college quarterbacks in history, this will be his final collegiate game. He won't have a chance for another national championship, but he does have an impressive list of accolades.
• Starting quarterback for national champions in 2011 and 2012 seasons; redshirted during 2009 national championship season
• 36-3 career record as Crimson Tide's starting quarterback (most wins in school history)
• Alabama career leader in passing yards (8,632) and touchdown passes (75)
• Maxwell Award winner, Johnny Unitas Golden Arm Award winner, Heisman Trophy runner-up this season
5. The previous time these blue-blood programs met was a home-and-home series in 2002 and 2003. Oklahoma swept the series, winning 37-27 in Norman (Oklahoma was AP No. 2, Alabama was unranked), then 20-13 in Tuscaloosa (Oklahoma was AP No. 1, Alabama was unranked).
Eventual Heisman Trophy-winning quarterback Jason White threw for 259 yards, two touchdowns and no interceptions in the 2003 meeting.