Howard Smith/USA TODAY Sports
Mark Ingram helped lead a Saints rushing attack that racked up 185 yards against the Eagles
The New Orleans Saints picked up the first road playoff win in their franchise's history Saturday – here's how they got it done:
Flipped the script
During the regular season the Philadelphia Eagles were the most productive running team in the NFL at 160.4 yards per game. The Saints held them to half their average at an even 80 yards. The Saints defense held LeSean McCoy to 2.9 yards per rush between the tackles, his second-lowest average this season and the lowest allowed by the Saints. The Eagles lost all three games this season when McCoy averaged 3.0 yards per rush or fewer between the tackles.
New Orleans, meanwhile, averaged 92.1 yards per game on the ground, but exploded for 185 on Saturday. That's good for second-most in Saints playoff history.
Mark Ingram filled in for the injured Pierre Thomas and rushed for 97 yards and a score. The 97 yards are the second-most Ingram has racked up in any game in his pro career. Ingram ran for 73 yards on designed rushes to the right, including his 4-yard touchdown in the third quarter.
Brees bounces back from rough first half
Drew Brees was 10-18 for 98 yards and two interceptions in the first half. Brees' teams had been 0-3 all-time in games in which he had thrown a pick. But Brees bucked that trend by bouncing back in the second half – completing 10 of 12 passes for 152 yards and a score.
At the end of the first half, Brees' QBR was 12.9. In the second half, it was 93.5.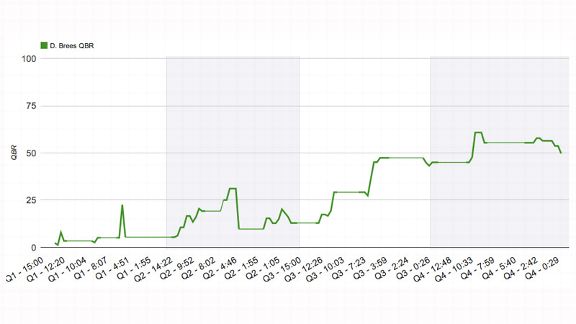 ESPN Stats & Information
Limited Foles' downfield opportunities
Nick Foles led the NFL with 9.1 yards per pass attempt during the regular season. Saturday he averaged 5.9 yards per attempt.
The Saints held the Eagles to one play of 25 yards or more, tied for the fewest by the Eagles in a game this season. The Eagles led the NFL with 62 such plays during the regular season.
That one play was a 40-yard catch by Desean Jackson, who was otherwise neutralized. Other than that big play he had two catches for 13 yards.