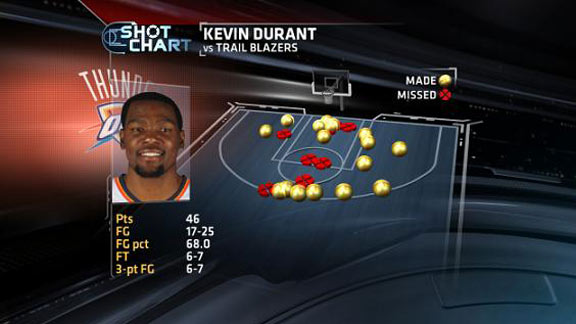 Kevin Durant just keeps on scoring.
He poured in 46 points in the Oklahoma City Thunder's win over the Portland Trail Blazers.
• Durant has scored at least 46 points four times in his past 10 games. Those are the four highest scoring games of any player in the NBA this season. The Elias Sports Bureau notes that he's the first player to have four games of at least 46 points in a 10-game span since Kobe Bryant did so in April 2007.
• Durant has four games with at least 45 points this month. Only one player has had more such games in a month since the ABA-NBA merger: Bryant with five in 2005-2006 and 2006-2007.
• Durant is averaging 36.5 points in 14 games since Russell Westbrook went down with an injury. The Thunder are 9-5 in those games.
• He's averaging 37 points per game in January. It's the highest scoring month of his career (counting only months in which he played multiple games). Coincidentally, three of Durant's four highest scoring months have come in January. He averaged 32.1 points in January 2010 and 31.6 points in January 2013.
• This was Durant's eighth straight game scoring at least 30 points. No other NBA player has a streak longer than four games this season. Durant's five games of at least 40 points are three more than anyone else in the NBA.
• Durant has scored at least 30 points and handed out at least four assists in each of his past eight games.
Elias notes that only seven other players in NBA history have done that within one season: Oscar Robertson (six times), Nate Archibald (three), Jerry West, Kareem Abdul-Jabbar, Michael Jordan, Allen Iverson and LeBron James.