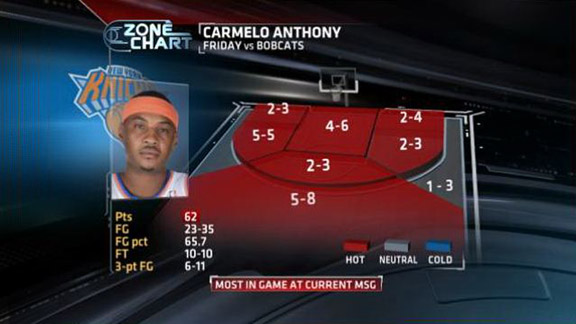 ESPN Stats & Information
Carmelo Anthony's 62 points were the most in an NBA game since Kobe Bryant scored 65 in 2007.Carmelo Anthony scored 62 points on Friday, breaking the franchise record for the New York Knicks and scoring the most points in the current version of Madison Square Garden.
Most Pts in Single Game - Knicks History
Anthony also pulled down 13 rebounds. The last player to score 60 points and grab at least 10 rebounds in a game was Tracy McGrady in March 2004.
The last player to grab at least 13 rebounds during a 60-point game was Shaquille O'Neal in March 2000.
Other than the points and rebounds, Carmelo's stat line was pretty barren. He didn't have an assist, turnover, block or steal in the game.
Anthony had 57 touches in the game and only passed the ball 16 times. His other touches led to 35 shots and six fouls drawn.
According to the Elias Sport Bureau, his 62 points are the most for a player who did not commit a turnover since individual turnovers were tracked starting in the 1977-78 season.
The last player to finish without an assist during a 60-point game was Kobe Bryant. He had an identical 62-point, 0-assist stat line against the Dallas Mavericks on Dec. 20, 2005.
Anthony also has something else in common with Kobe. They are the only active players to score 60 points in a game.
How did he get to 62 points?
Carmelo was extremely efficient in isolation, scoring 22 points on 17 shots. Anthony leads the NBA with 5.6 points per game on isolation plays this season.
He had the most success against Michael Kidd-Gilchrist. When he was guarded by Kidd-Gilchrist, he was 11-for-13 (85 percent) with 25 points. Against other defenders, he made just over half his shots (12-of-22).
He had a career night from mid-range, making 13 of 18 shots (72 percent). Before Friday night, he had never made more than 11 mid-range shots in one game.
The only way the Charlotte Bobcats were able to slow Anthony was by double-teaming him. He was double-teamed on eight touches in the second half; he passed out of it six times and was held to just two points.