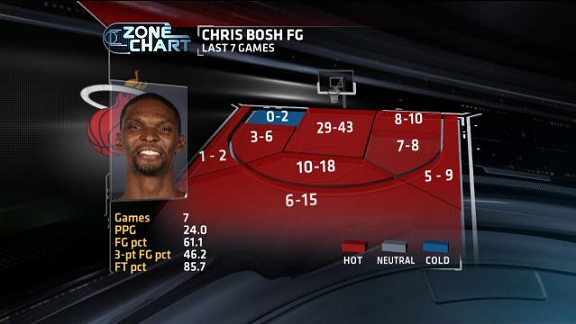 Chris Bosh has been hot from nearly everywhere on the floor.Chris Bosh's recent run doesn't quite match up with Kevin Durant's, but it is very impressive nonetheless.
Bosh made nine of 10 shots in the Miami Heat's rout of the San Antonio Spurs on Sunday. It was the second-best field goal percentage he's ever had in a game in which he took at least 10 shots from the field. He was 11 for 12 against the Sacramento Kings on January 16, 2008.
Bosh was a perfect 4 for 4 from the field on mid-range shots (two-point attempts from outside the paint), continuing a hot stretch of making those shots.
Over the last seven games, Bosh is 28 for 44 on mid-range shots (including 15 of 18 from the right side).
Bosh entered the day shooting 47 percent on mid-range jumpers this season, 10th-best in the NBA.
He finished second in the league last season, shooting 50 percent on those attempts.