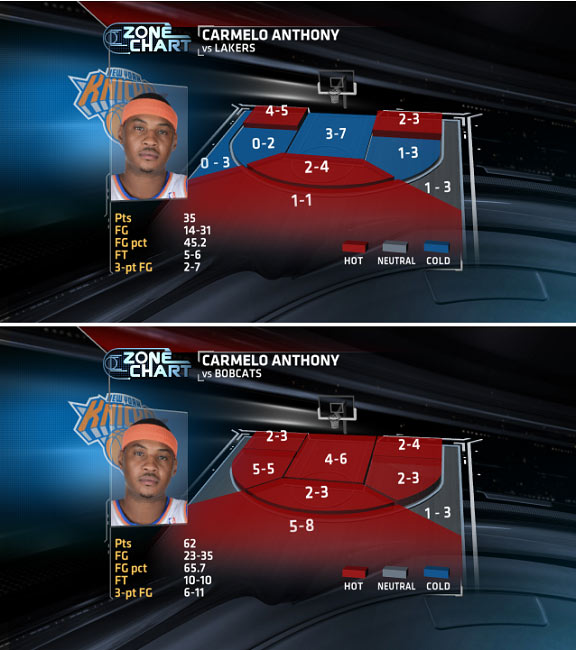 Carmelo Anthony has racked up points in his last two games.Carmelo Anthony followed up his 62-point game on Friday night by only scoring 35 in the New York Knicks'win over the Los Angeles Lakers.
The 97 points in a two-game span are a personal best for Anthony. The Elias Sports Bureau notes that his combined total was tied with Bernard King for the third-most in a two-game stretch in Knicks history. King has the top two spots, with 103 points in a pair of games in the 1984-85 season and 100 points (on back-to-back 50-point games) during the 1983-1984 season.
Elias also noted that Anthony became the second Knicks player to score 30 or more points in three straight games against the Lakers, joining Hall-of-Famer Walt Bellamy, who did it in 1966.
How did Anthony go about getting his points on Sunday?
He scored 20 points on 8 of 13 shooting when he was defended by Ryan Kelly. He was 6-for-18 against anyone else who defended him.
Anthony scored 22 points on mid-range jumpers, going 10 for 18 on two-point shots from outside the paint. The baseline has been Anthony's specialty the last two games. He's made 10 of 15 mid-range jumpers from there in the last two games.
Anthony also fared well when posting up, netting 14 points on post-ups against the Lakers. That's better than twice his season average of 5.8 post-up points per game.
Anthony was 14 for 31 from the field, not quite the touch he had against the Bobcats on Friday. But this was a good shooting day for another Knick. Anthony's teammate Raymond Felton was 8 for 10 from the field, tied for the second-best shooting day in his NBA career (minimum 10 shots).