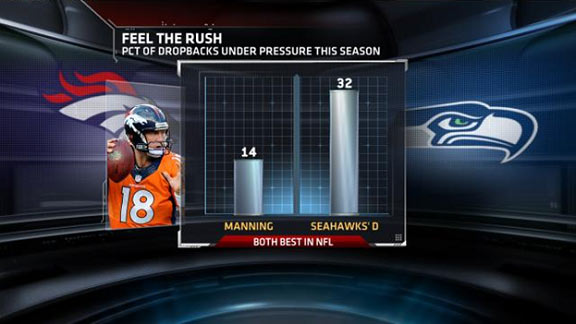 Peyton Manning and the Denver Broncos' wide receivers will have their hands full with the Seattle Seahawks' secondary in Super Bowl XLVIII, as detailed here .
As good as the Seahawks' secondary has been, the pass rush is just as crucial for the NFL's top defense. How they are able to disrupt Manning will be another key matchup to watch Sunday.
No pressure on Manning
In the NFL this season, quarterbacks were sacked or put under duress (Duress is defined as when the quarterback is forced to scramble, move or alter a throw due to defensive pressure) on 26 percent of their dropbacks. Manning was pressured on a league-low 14 percent of his dropbacks this season.
Manning has yet to be sacked this postseason and he's been under duress on only five of his 79 dropbacks (6 percent).
Manning had the best completion percentage under duress this season, but the pressure still affects his play, making his protection so important.
Peyton Manning This Season
Including Playoffs
A lot of the credit goes to the Broncos' offensive line. The five-man unit of Chris Clark, Zane Beadles, Manny Ramirez, Louis Vasquez and Orlando Franklin have been on field together for 80 percent of the Broncos' snaps this season (1,031 total), including every postseason snap.
Manning also gets credit for the lack of pressure. On average, Manning has held onto the ball for 2.34 seconds from snap to pass this season. Only Andy Dalton and Chad Henne (each at 2.29 seconds) had quicker times.
Getting pressure with four
The Seahawks defense has pressured opposing quarterbacks on 32 percent of dropbacks this season, best in the NFL.
The Seahawks have been able to get pressure even when relying heavily on a four-man pass rush. During the regular season the Seahawks sent four or fewer pass rushers 73 percent of the time, eighth highest in the NFL. This postseason, the Seahawks have done so on all but three dropbacks (96 percent).
One of the keys as to why the Seahawks' pass rush has been so successful is a strong defensive line rotation. Seven defensive lineman have played at least 500 snaps for the Seahawks this season, and none have played more than 58 percent of the team's snaps.
Seahawks Defensive Line Rotation
This Season (Inc. Playoffs)
Who has the upper hand?
The Seahawks have generated pressure on at least 21 percent of dropbacks in every game this season, something that Manning has had happen only four times (2-2 in those games).
The key to getting or preventing pressure in the game could be time.
Although Manning has a quick release, Seahawks' opponents have held the ball for 2.77 seconds from snap to pass this season, fourth longest in the NFL.
However, if the Broncos are able to sustain long drives, then Manning's no-huddle style of offense could fatigue the Seahawks' pass rushers.
The Broncos have averaged 8.8 plays per drive this postseason, up from 5.7 in the regular season, and have recorded a first down on all but one of their 16 postseason drives (Julius Thomas fumbled after gaining first-down yardage on the drive).