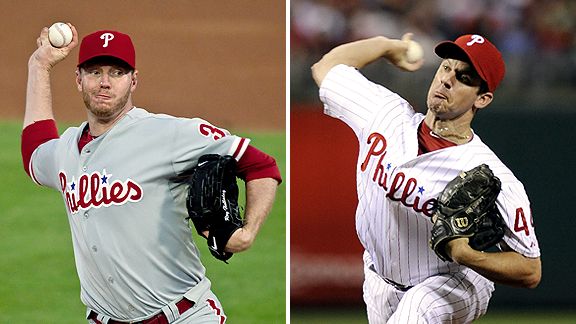 Getty Images
Roy Halladay and Roy Oswalt hope to take the Phillies back to the World Series for the third consecutive season.
As the Philadelphia Phillies begin their quest for their third straight World Series appearance, they will be most reliant on a pair of pitchers known by the same name -- Roy.
The name Roy is a derivative of the French word for king or ruler and few have ruled the mound like Roy Oswalt and Roy Halladay. In their careers, the two have combined for more than 300 major league victories, but neither has a World Series title. Oswalt got to the World Series once, in 2005. Halladay will be making his postseason debut.
There have been other successful ventures in which teammates who go by the same name have combined to be dynamic pitching duos.
The 1940s and 50s Indians were led by a pair of Bobs -- Feller and Lemon -- who were teammates together on the last Cleveland team to win a World Series in 1948. Both are also enshrined in Cooperstown, after combining as teammates for more than 350 wins.
Name's The Same:
Notable Starting Pitchers, Team won WS
The Twins rotation of the late 1960s was anchored by Jims -- Jim Kaat and Jim Perry. From 1964 to 1972, the Twins made it to the postseason three times with those two pitchers vital keys to their success.
The last time the Baltimore Orioles won a World Series, in 1983, they had two big winners named Mike -- the youngster Mike Boddicker from the right side and the veteran Mike Flanagan from the left side. The two combined on some Orioles magic, and 28 victories.
The Yankees of the late 90s had the Davids -- Cone and Wells -- who were as successful in their era as Halladay and Oswalt are in theirs. They not only helped the Yankees win a World Series as teammates in 1998, but they each pitched a perfect game in successive seasons.
Perfection is not what Halladay and Oswalt are after here (after all, Halladay already has a perfect game this season). Their goal is a championship. It would be the Phillies ultimate reward, or should we say -- 'Roy'-ward.