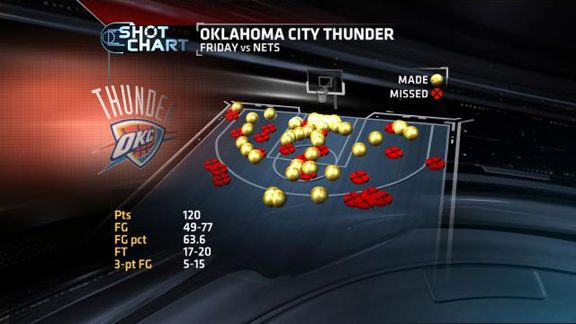 ESPN Stats & Information
The Thunder shot 63.6 percent on Friday, their highest field goal percentage since moving to OKC.It turns out that the only thing that could stop Kevin Durant was a blowout. His streak of 30-point games ended at 12 on Friday night as he scored only 26 points in the Oklahoma City Thunder's 120-95 win over the Brooklyn Nets.
Durant played just 30 minutes and didn't step on the court in the fourth quarter as the Thunder cruised past the Nets, leading by as many as 32 points at the Barclays Center.
At Least 550 Points, 90 Assists in Month
Past 50 Seasons
Despite not reaching the 30-point threshold, Durant had arguably the most efficient scoring night of his career. It was the first time that he made at least 10 field goals and shot more than 80 percent from the field in a game.
Durant took advantage of Shaun Livingston, going 9-of-10 with 22 points and one turnover when defended by him. He was at his best shooting from distance, making all five of his attempts from 15 feet and outside against the Nets.
He completed his dominant month with 575 points, the most in January since George Gervin had 590 in 1980. The last player to score that many points in any month was Kobe Bryant, who had 578 in March 2006.
Ibaka was Sergical
Durant was not the only efficient player in a Thunder uniform on Friday. Serge Ibaka scored 25 points on 12-for-12 shooting, the most makes without a miss by any player this season.
He did nearly all of his damage around the basket, with an average shot distance of 7.4 feet, almost three feet closer than his season average of 10.2 feet.
The last player to go 12-for-12 or better in a game was Nene Hilario in 2009 against the Utah Jazz, and the last player to do that in a road game was Karl Malone in 1999 at the Los Angeles Lakers.
The Thunder shot 63.6 percent from the field, the highest field goal percentage by any team this season and the best for the franchise since Jan. 21, 2002, against the Philadelphia 76ers.
Stat of the night
The Nets grabbed just 17 rebounds in the loss, the fewest rebounds by any team in a game since rebounds became an official stat in the 1950-51 season. For perspective, entering Friday, 42 different players have had at least one 17-rebound game this season. And Kevin Love had 16 by himself on Friday night.