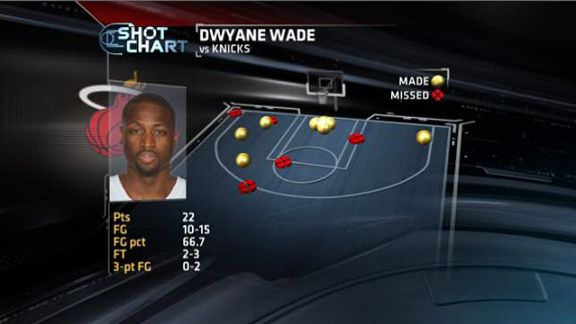 Dwyane Wade looked very comfortable against the Knicks on Saturday.The Miami Heat have not always played their best against the New York Knicks over the last two regular seasons, but on Saturday night, they basically had control for the full 48 minutes in their 106-91 win.
The Knicks had their four-game winning streak snapped, losing to the Heat for the second time in their last six regular-season meetings. The Knicks' 28 losses matches their total from all of last season.
James and Wade dominate
LeBron James and Dwyane Wade combined for 52 points, accounting for nearly half of the Heat's total. Wade finished with 22 points, more than double the 9.8 he averaged in his last four games.
Most 30-Point Games
By Visitor At Current MSG
James now has eight 30-point games in 18 regular-season games at Madison Square Garden, tied with Paul Pierce for fifth-most by a visiting player in the current version of the building (Michael Jordan has the most, with 19).
James has 15 straight 20-point games in that building. The Elias Sports Bureau notes that is the second-most by a visiting player there, trailing only a 19-game streak by Dominique Wilkins from 1985 to 1994.
James set the tone in the first quarter, when he scored or assisted on 21 of the Heat's 29 points (nine points and assists on four 3-pointers). Wade also established things early, creating eight of the 10 points he created off drives in the first half. He averages 7.7 points per game off drives according to player-tracking data on NBA.com.
The Heat finished with 33 points on James and Wade touches that were either post ups or drives. They average 23.1 points on such touches per the NBA tracking data.
The Heat are 26-7 with Wade this season, 7-6 without him.
Battier causes problems for Anthony
Shane Battier had a strong game for the Heat on both the offensive and defensive end. He finished with a season-high 16 points in 30 minutes. He made the man he guarded, Carmelo Anthony, work hard for his points.
Battier denied or fronted Anthony on 21 of Anthony's 35 touches when Battier guarded him. Two of Anthony's made field goals came with fewer than five seconds on the shot clock and were contested.
Anthony's 56 touches Saturday were below his season average of 70 touches per game according NBA.com player tracking data.
Five of Anthony's seven turnovers came with Battier defending him.