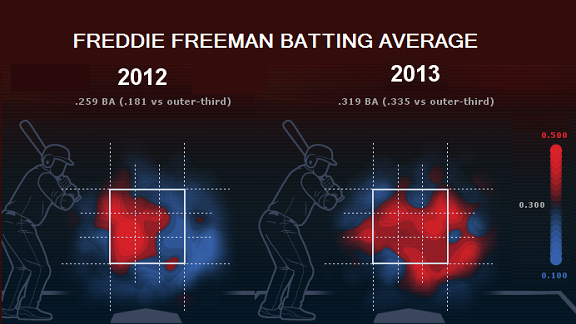 ESPN Stats & Information
Freddie Freeman made significant improvements at the plate over the last year.The Atlanta Braves locked in one of their young stars by signing first baseman Freddie Freeman to an eight-year contract extension with a reported value of $135 million.
The 24-year-old Freeman is one of the game's emerging young stars.
2013 breakthrough
Freeman enjoyed a breakout 2013 season, posting more Wins Above Replacement (5.4) than in his first two seasons combined (4.0).
Freddie Freeman
Last 3 Seasons
He had the fourth-most Wins Above Replacement for any first baseman in the majors last season.
Freeman became the first first baseman since Hall of Famer Orlando Cepeda to post three 20-HR seasons through his age-23 season. His three such seasons are tied with Cepeda, Jimmie Foxx and Hal Trosky for the most in MLB history among those whose primary position was first base.
What led to Freeman's improvement?
Freeman's 2013 success was a product of his becoming a hitter who could get to pitches on the outside part of the plate.
The heat maps atop this story show the difference in performance from 2012 to 2013.
Freeman had the highest batting average (.335), second-highest OPS (.914), and tied for the sixth-most home runs (11) last season versus pitches thrown to the outer third of the plate, or off the outside corner.
Freeman was able to do this without notably increasing his rate of swings that missed on pitches thrown to that area. His 2013 miss rate was 27 percent, up one percentage point from 2012.
Stat to Watch
One thing that may be tough for Freeman to match in future seasons is how he performed last season with runners in scoring position.
Freeman had a .443 batting average and 1.236 OPS in that situation last season. Both of those ranked second-best in the majors.
The money
The contract is the largest ever signed by a player with the Braves. The previous mark of $90 million was set by Chipper Jones for his six-year deal from 2001 to 2006.