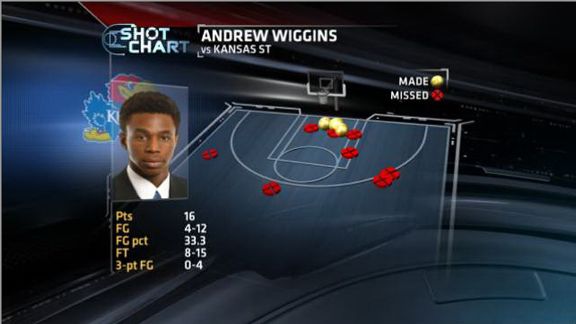 Andrew Wiggins had one of his worst games of the season.
What were the top stats to know from Kansas State's upset win over No. 7 Kansas on Monday night?
This was a very unusual win for the Wildcats, who won for the fourth time in 44 Big 12 meetings against the Jayhawks.
How Kansas State won
The Wildcats won this game by scoring late from in the paint. Kansas State was 5 for 12 in the paint in the first half, including 4 of 8 at the rim. The Wildcats upped that to 14 for 21 in the paint and 13 of 19 at the rim after halftime, netting 28 points in the paint over the final 25 minutes.
The Wildcats' 38 paint points are their third-most in a game this season.
A rough day for Wiggins
Jayhawks freshman Andrew Wiggins was 4 for 12 from the field and 8 of 15 from the free throw line. This continued a rough road stretch for Wiggins. He's shooting 10 for 27 in his last three road games, including 1 of 14 in the first half.
Head-to-Head in Big 12 History (Since 1996-97)
This was only the second time all season that Wiggins failed to make a basket in the first half (he was kept away from the rim, not taking his first shot in the paint until the second half). The other came against Texas, when he was 0 for 8.
Wiggins is averaging 14 points with an effective field goal percentage of 34 percent in four games this month. Contrast that with Kansas State's Marcus Foster (20 points in the win), who is averaging 25.7 points and is 10 for 17 from 3-point range in three February games.
Kansas's three big freshmen -- Joel Embiid, Wayne Selden, Jr. and Wiggins -- were terrific in the Jayhawks' win over Kansas State on Jan. 11, with 53 points and 18 rebounds on 63 percent shooting, including seven 3-pointers. But on Monday, they had only 24 points and 11 boards on 30 percent shooting, including 0 for 7 shooting on 3-pointers
The Century Mark
By Kansas State's records, this was the school's 100th win all-time against a ranked opponent. Kansas State improved to 5-2 against Top 25 teams this season with the victory, the first for head coach Bruce Weber in six tries against the Jayhawks.