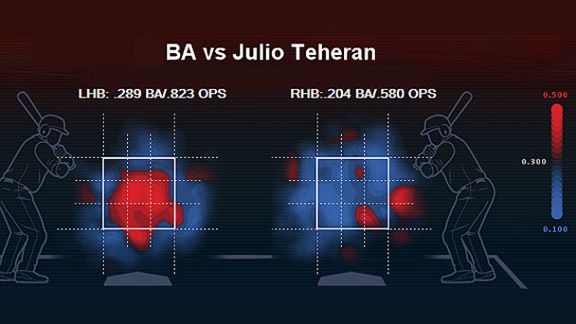 Julio Teheran dominated some hitters in 2013, but struggled with others.The Atlanta Braves signed one of their promising young arms, Julio Teheran, to a six-year contract worth a reported $32.4 million on Friday.
Teheran is one of the game's promising young stars and is the latest pitcher with one to two years of service time to be locked into a long-term deal (other recent ones of note include San Francsico Giants lefty Madison Bumgarner).
What Teheran does best
What makes Teheran a pitcher to watch?
Opponents vs Julio Teheran
Pitching Ranks Last Season
His strikeout to walk ratio of 3.78 to 1 last season ranked as the ninth-best season among those who qualified for the ERA title at age 22 or younger in baseball's live ball era (since 1920).
Teheran's high-end performance was the product of his ability to get a lot of swings and misses on pitches in the strike zone. His 21 percent miss rate on those pitches was the third-highest of any starter in baseball last season, trailing only Max Scherzer and Tu Darvish.
Teheran ranked as one of the game's most effective starters against right-handed pitching, holding them to the eighth-lowest batting average in the majors (.204).
One of the reasons for that was that his slider got better as the season went on. The pitch retired 44 right-handed hitters, but yielded 15 hits and walks prior to the All_Star Break. After the break, Teheran's miss rate with the pitch increased from 31 percent to 40 percent and his outs-to-baserunners ratio jumped to 33 to 3.
Room for improvement
The top thing to watch for Teheran next season is his performance against left-handed hitting. Opponents had an .823 OPS against Teheran last season, which ranked sixth-highest in the majors. Teheran's slider got outs against left-handed hitters, but the hits against it were crushing.
Lefties had nine hits against the pitch- three doubles and six home runs.