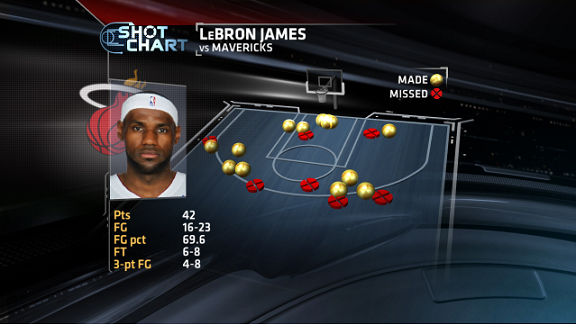 LeBron James was historically good on Tuesday night.
The Miami Heat are still offering up payback to the Dallas Mavericks for their loss in Game 6 of the 2011 NBA Finals.
And LeBron James remains at the front of the line, finishing with 42 points in the Heat's sixth straight win over the Mavericks since that Finals defeat.
Here'a a run-through of superlatives from James' highest-scoring game this season.
James notched his 50th career 40-point game, joining Kobe Bryant (120) as the only active players with at least 50 career 40-point games. James reached the milestone in his 816th career game. Bryant reached it 157 games faster than that.
James also tallied nine rebounds and six assists. He has 39 games with at least 40 points, five rebounds and five assists. The Elias Sports Bureau notes that the only players with more are Oscar Robertson (71), Michael Jordan (62), Wilt Chamberlain (61) and Elgin Baylor (40).
Elias also noted that James joined Jordan, Bryant and Allen Iverson as the only players since the NBA-ABA merger with at least 50 40-point games before turning 30.
James has now scored at least 35 points in three straight games for the first time with the Heat
Highest Points Per 40 Min
4th Qtr/OT This Season
The last time he scored at least 35 in three straight games was in January 2010 with the Cleveland Cavaliers (four straight games).
James outscored the Mavericks, 12-11 over the final 7:30. He was 4-for-6 from the field in that span. The Mavericks were 3-for-14. James' fourth-quarter/overtime scoring rate (36.8 points per 40 minutes) is the highest of any player in the NBA this season. He's shooting 57 percent from the field in the final period/overtime.
James became the first player with a 40-5-5 game against the Mavericks since Karl Malone of the Utah Jazz on Jan. 13, 1990.
They Said It
"I'm in a zone right now."
-- James after the game
This was almost as good of a zone for any game that James has ever played.
James was 16-for-23 from the field (69.6 percent). The only game in his career in which he took at least that many shots and connected for a higher percentage was in Game 6 of the 2012 Eastern Conference finals, when he scored 45 points on 19-of-26 shooting against the Boston Celtics.
The 16-for-23 tied the best shooting percentage for James in a regular-season game, matching the 16-for-23 he shot against the Mavericks on March 29, 2006.