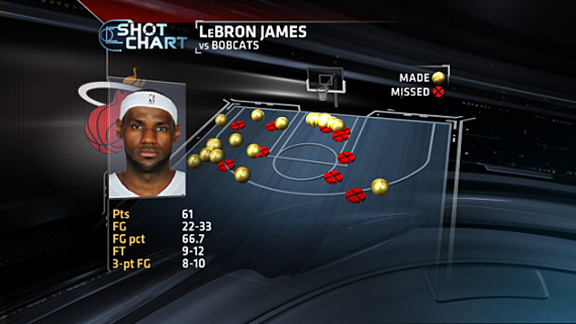 LeBron James scored more than he ever had before.On a night in which the Miami Heat were without Dwyane Wade, LeBron James decided to pick up the scoring slack … and then some. And he was unencumbered by his protective mask.
The highlights from the Heat's eighth straight win center around their star.
61
James set career highs and Heat records for points in a game (61), points in a quarter (25 in the third quarter) and field goals made in a game (22). He also tied his career high for 3-pointers in a game with eight as the Heat cruised to a 124-107 victory over the Charlotte Bobcats in Miami.
60 Points, Shot 66% or Better
Single-Game Since 1979-80
James finished one point shy of Carmelo Anthony's single-season high for points in a game. Anthony had 62, also against the Bobcats.
James brought more than enough points for everyone. The Heat's big three entered the day with 3,159 points in 56 games, an average of 56.4 points per game.
Bobcats have been here before
The Bobcats are the second team in NBA history to allow two different players to score 60 or more points in a single game in the same season. The 1961-62 Knicks are the other. That team yielded 100 points to Wilt Chamberlain (as well as a 67-point game by him) and 63 points to Jerry West.
The Bobcats have been the opposing team the past three times that a player scored at least 55 points (Deron Williams, Anthony and James).
Man with the mask
In three games since donning a face mask to protect his broken nose, James is shooting 67 percent from the field and averaging 37.3 points.
He hasn't hesitated to go to the basket, making 28 of his 34 shots in the paint.
But James did add one shot to his repertoire on Monday. He was 6-for-6 when shooting a 3-pointer from the left side. He did not attempt a 3-pointer from that side of the court in either of the past two games.
Did You Know?
This marked only the second time in the past 24 seasons that two different players scored at least 60 points in a game in the same season. The other was in 2006-2007, when Kobe Bryant and Gilbert Arenas did so.
James had 61 points, seven rebounds and five assists. He's only the seventh different player to hit all three of those benchmarks in a game. The others are Elgin Baylor (twice), Chamberlain, Rick Barry, Michael Jordan, David Robinson and Tracy McGrady.
This was the 10th time that James scored at least 50 points in a game. It was the first in which he did so on his home court.
James finished with an effective field goal percentage (a stat that adds weight for 3-point shots) of 78.8 percent.
The Elias Sports Bureau notes that only two players in the shot-clock era have had a higher percentage in a 60-point game-- Wilt Chamberlain (82.9) and Karl Malone (80.8).