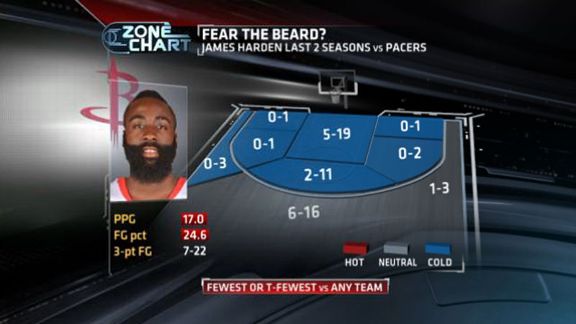 James Harden is averaging just 17.0 PPG against the Pacers since becoming a Rocket.
Friday night at 9:30 ET on ESPN the Pacers will be in Houston to face the Rockets. Houston is 0-3 against Indiana since James Harden arrived in Houston last season. The biggest reason for the Rockets goose egg is how Indiana has bottled up Harden.
Harden is averaging just 17.0 points on 24.6 percent shooting in three games against the Pacers over that span (tied for his lowest scoring average against any team – Clippers).
Harden totaled just 12 points on 3-of-14 shooting in the only meeting between these teams this season back on December 20th in Indiana.
Paul George suffocating defense
Paul George has guarded Harden on over 60 percent of his shot attempts in those three games.
Harden is 9-of-35 shooting (26 percent) against George, and six of those makes have come with the help of a screen as the pick-and-roll ball handler.
Roy Hibbert protecting the rim
Harden is scoring just 3.3 paint points per game against the Pacers, compared with 8.5 against all other teams. He's shooting 5-of-19 inside the paint against Indiana.
The defensive presence of Roy Hibbert is one reason why Harden can't convert in the paint. His average shot distance (15 feet, six inches) is also two feet further out against the Pacers compared with other teams.
According to player track data on NBA.com, opponents are shooting 41.7 percent at the rim when Hibbert is on the court. That mark is best among the 57 players whose opponents record at least 5 field goal attempts per game at the rim.
Pacers transition defense
Harden has led the NBA in transition points in each of the last two seasons, averaging 7.2 transition points per game.
The Pacers have allowed the fewest transition points per game in the NBA over that span, and have not let Harden get going with easy baskets.
He's averaging 3.3 transition points per game against the Pacers, on 4-of-11 shooting in three games.