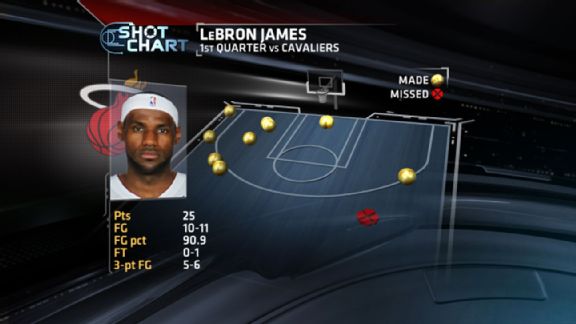 LeBron James was almost perfect to start Tuesday night's game against the Cavaliers.This has been an interesting month for LeBron James from a statistical perspective. He's bookended a bit of a shooting slump with two of the best quarters in his NBA career.
James scored 25 points in the first quarter of Tuesday's win over his former team, the Cleveland Cavaliers, on 10-for-11 shooting. His 25 points matched the Cavaliers' total for the quarter and tied the franchise record for points in a quarter.
James was unable to duplicate what happened the last time he tallied 25 in a quarter (earlier this month against the Charlotte Bobcats), tallying 18 points in the next three quarters combined. His 31 points at halftime marked the first time he's scored that many in an opening half for the Heat.
His last 30-point first half was on Feb. 6, 2010 for the Cavaliers in a 47-point effort against the Knicks.
James finished 14-for-19 from the field (73.7 percent) for 43 points. That's the third-best he's ever shot in a regular-season game in which he took at least that many shots. He's twice gone 16-for-21, once in 2011 against the Atlanta Hawks and once in 2012 against the Milwaukee Bucks.
It's also the most points he's ever scored in 13 games against his former team.
The key for James was that he was able to make his shots from 3-point range. LeBron entered the night six for his past 24 from 3-point range, but was 6-for-8 in this one.
It was the second-best he's ever shot from long range in a game in which he took that many shots; he was 8-for-10 from 3-point range in the 61-point game against the Bobcats.
Next up for the Heat are the Boston Celtics, tomorrow night. James is one of two players who have played at least 10 games against the Celtics and averaged at least 30 points against them. His 30.1 points scoring average trails only Michael Jordan's 30.7.
Elias Sports Bureau Notes of the Night
James is the first player with two 25-point quarters in the same month since Kobe Bryant, who had two in his 81-point game against the Toronto Raptors on January 22, 2006 (27 in third, 28 in fourth).
James is 12-1 against the Cavaliers since leaving Cleveland (.923 winning percentage). The best record by a retired player against his former team, among players with at least five All-Star selections for that former team, is Oscar Robertson's 19-2 mark against the Cincinnati Royals/Kansas City Kings.