Jim Brown/USA TODAY Sports
Florida has been nearly unbeatable with Scottie Wilbekin in the lineup. A few of the top teams heading into the NCAA Tournament have had inconsistent lineups throughout the season. This includes Final Four contenders such as overall 1-seed Florida, West region 1-seed Arizona, a talented Kansas squad and the title pick of seemingly every ESPN expert, Michigan State.
Much of the talk around these teams and their chances of advancement has to do with who's available now as opposed to who played in the games to this point. In the case of Arizona and Kansas, the absence of a key player suggests that their advancement prospects are lower than they would be if those players were available. With Michigan State and Florida, their performance in games in which they have had their current "full strength" lineups suggests that they are likely to perform better than what their overall season performances suggest. But just how much better or worse are these teams' chances as a result of these lineup changes?
One of the flexible components of ESPN's Basketball Power Index (BPI) is that it can be used to measure how a team has performed with or without a particular player or group of players in the lineup. While the overall season BPI de-weights games in which a key player – defined as one of the team's top five players in terms of minutes per game – was out of the lineup, a potentially more revealing exercise is to isolate the team's BPI in those games with or without the player(s) of interest.
Taking it one step further, the BPI-based projections of the NCAA Tournament (as explained here with the full-season ratings) can be run with a team's "modified" BPI to look at how the change might affect the prospects of the team – and other teams competing for the same spots in the tournament – going forward. Let's take a look at each of these four teams individually and assess how the performance of the lineup they have going into the tournament could change their chances of reaching the Sweet 16, making the Final Four and eventually being crowned champions April 7.
Arizona Without Brandon Ashley
Heading into February, Arizona was 21-0 and the No. 1 team in the country. But in a game at California on Feb. 1, Arizona lost not only its perfect record but also starting forward Brandon Ashley with a season-ending foot injury.
The Wildcats have gone 9-4 since Ashley went down, including the loss at Cal. But that drop-off in record is a bit misleading, given a stronger Pac-12 schedule down the stretch, and the fact each of those losses came by seven points or fewer, away from home and to a quality opponent. Arizona's BPI in those games was an 88.9 – not as high as its 91.1 for the entire season, but still a high number that would be second to Florida in the overall season ratings.
That drop-off is enough to hurt Sean Miller's team's advancement chances. As you can see below, Arizona's chances of reaching each subsequent weekend of the tournament and winning the whole thing drop by about 10 percentage points each when assuming the Wildcats' post-Ashley performance going forward.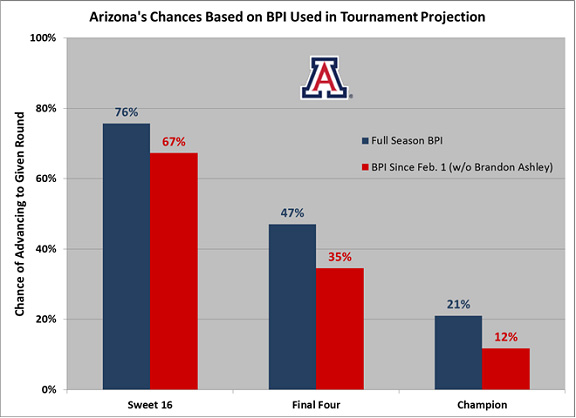 This would be enough to take the Wildcats from the BPI favorite to win the national championship to a clear second-favorite behind Florida. But it's not enough to discount them as a title contender altogether, as it seems some are doing (Arizona is picked to win the title in less than eight percent of ESPN.com Tournament Challenge entries).
Kansas (Possibly) Without Joel Embiid
Another noteworthy injury situation for a top team involves the back issues that have plagued Kansas center and projected NBA lottery pick Joel Embiid. This has forced Embiid to miss five recent games, giving a small but still interesting sample from which to evaluate the Jayhawks' performance without their biggest interior presence.
Kansas is 3-2 in those games with the losses coming at West Virginia and in the Big 12 tournament against Iowa State. The Jayhawks' BPI in those games is 81.3, a substantial decrease from their season rating of 87.4. This difference corresponds to about 5.5 net points per 100 possessions and drops the Jayhawks' chances to less than a coin flip even to make the Sweet 16.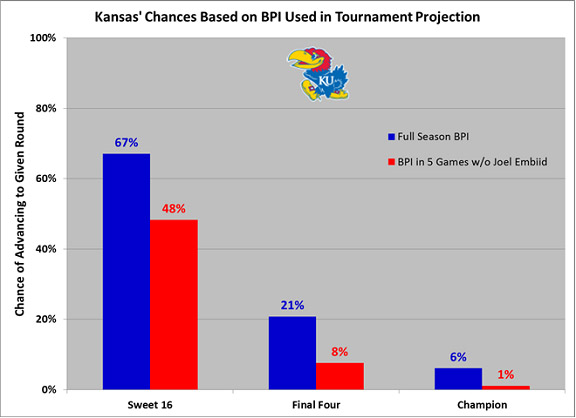 While this non-Embiid forecast makes it seem quite unlikely that the Jayhawks will be heading to North Texas, much less winning games there, two things are worth keeping in mind. First, the five-game sample without Embiid is small, so it's certainly possible that Andrew Wiggins and his other talented teammates could be better without him than that 81.3 BPI suggests. And second, unlike with Arizona's Ashley, there is a chance that Embiid will return at some point in the tournament, and that would obviously boost Kansas' advancement prospects.
"Healthy" Michigan State
Starters Gary Harris, Keith Appling, Adreian Payne and Branden Dawson have each missed at least three games this season, with all four of those key players being available for only half of Michigan State's 34 games this season. The Spartans were 14-3 with an 87.8 BPI in those games, including the run to the Big Ten tournament title last weekend. That's a bit higher than their 84.9 BPI for the season and bumps up their chances of making the Sweet 16 and Final Four by about 10 percentage points each.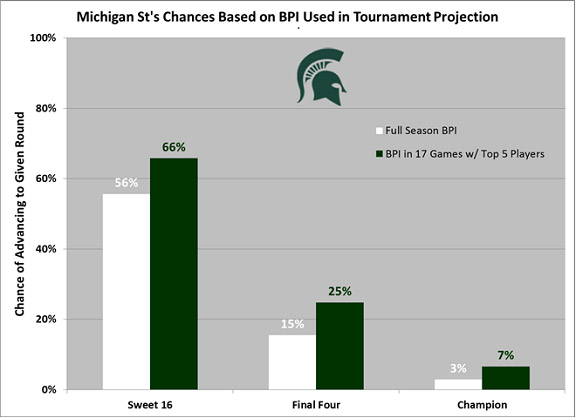 While having the full lineup is obviously a benefit to Tom Izzo, it's important to note the magnitude of the difference is not overwhelming. According to BPI projections, Michigan State would still have only a 1-in-4 shot to make the Final Four and a seven percent chance of taking home the trophy.
Those numbers suggest that the experts who are picking the Spartans to win it all on the basis of their improved health are likely vastly overrating their chances. In fact, there's another team that has its full lineup entering the tournament that might be a much stronger bet …
Florida with All of Its Top Players
SEC player of the year Scottie Wilbekin missed the team's first five games (Dorian Finney-Smith also missed the first two), and Casey Prather missed two January games. In the other 27 games, Florida was 26-1 with the loss coming at Connecticut on Shabazz Napier's buzzer-beater in December.
Florida's season BPI is already quite impressive at 90.6, but that rises to 91.8 when isolating those 27 games. Suppose you combine that with the weaker projections for the Gators' potential Elite Eight opponent in Kansas and their biggest national title competition (according to BPI) in Arizona based on those teams' injuries. Even with a stronger Michigan State as discussed above, Billy Donovan's squad becomes by far the most likely Final Four participant and national champion in this scenario.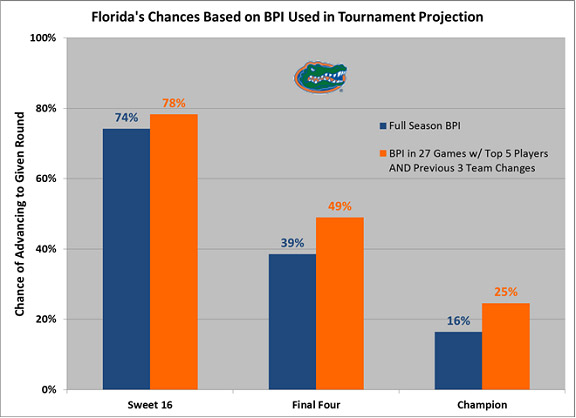 Now, this modified projection certainly involves three "pro-Gator" assumptions (Arizona is slightly weaker without Ashley, Kansas is a good bit worse without Embiid and Florida really is that good with its full lineup), but given the circumstances, it might be more representative than the full-season BPI projections. And if that's the case, the Gators are probably the best bet both to make it to North Texas and to cut down the nets there in a couple weeks.