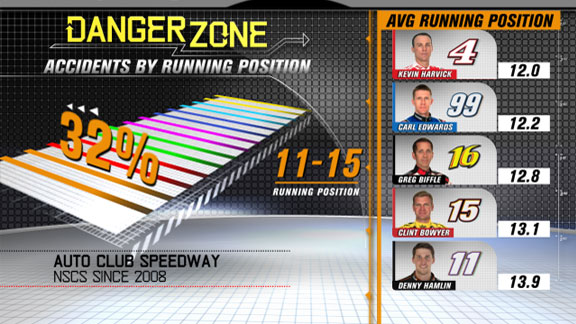 ESPN Stats & Info
Some of the best drivers could be in trouble Sunday if they're in the wrong place at the wrong time.Here are the projections for Sunday's Sprint Cup race at California. Our projection system takes into account, among other factors, drivers' past performances at the current track, prerace on-track activity (practices and qualifying) and probability of finishing the race. All of the data is then adjusted for the track type (in this case, a 2-mile D-shaped oval superspeedway) and time of year.
Race Projections for NSCS at California
• The Lap 1 leader has never won a Cup race at California in 24 tries. It's the only lap of the race the eventual winner has never led. In 2008, Jimmie Johnson won from the pole, but AJ Allmendinger led the first lap.
This trend might continue through Sunday, as polesitters Matt Kenseth (inside) and Brad Keselowski (outside) are projected to finish fourth and 16th, respectively.
• Two of the past three California races have ended with a last-lap pass for the win.
This favors Jimmie Johnson, who owns the fastest average speed late in runs (170.1 mph) and Bristol winner Carl Edwards, who has gained the most positions in the final 10 percent of California Cup races (three per race, 45 total) since 2005.
• Johnson (our projected winner) is the all-time wins leader at California with five -- nobody else has more than three. He's also the all-time leader in top-five finishes, laps led and average finish.
Johnson finished no worse than seventh in any practice, recorded the second-fastest overall qualifying lap and rolls off third.
• Dale Earnhardt Jr. struggled last week at Bristol but remains second in points, with a seventh-place average finish through four races.
Junior has never won at California but finished in the top three in this race each of the past two years.
• Kyle Busch captured Joe Gibbs Racing's first NSCS California win last year -- his second win at the track.
Busch has led 67 percent of the total laps (356 of 529) in the past three California races, with a second-place average finish during that span.