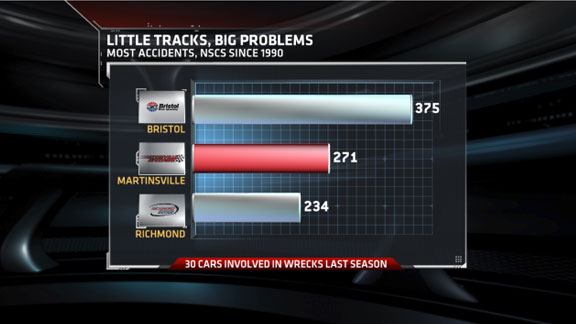 ESPN Stats & Information
Sixteen drivers were involved in collisions in this race last year, third-most at any non-plate track.
Here are the projections for Sunday's Sprint Cup race at Martinsville. Our projection system takes into account, among other factors, drivers' past performances at the current track, pre-race on-track activity (practices and qualifying) and probability of finishing the race. All of the data is then adjusted for the track type (in this case, a .526-mile oval short track) and time of year.
NSCS at Martinsville Projections
• Last week's race at California was marred by widespread tire issues - 16 in all - believed to be caused by teams running low air pressures on the bumpy two-mile oval.
Projected race winner Jimmie Johnson was leading with less than 10 laps to go when his left front tire blew out, relegating him to a 19th-place finish.
Tires shouldn't be the issue on Sunday though, as Martinsville's cramped quarters have something different in store. Sixteen drivers were involved in collisions in this race last season, with Kurt Busch (DNF) and Dale Earnhardt Jr each wrecking twice.
• Watch out for the Hendrick stable on Sunday: Johnson, Jeff Gordon, Earnhardt Jr. and Kasey Kahne all drive for Hendrick Motorsports, which has won a record 21 NSCS races at Martinsville (the most by any active team at any track).
Hendrick has also won the last three Martinsville races, 1 off the record for consecutive Martinsville wins, last done by Holman-Moody from 1963-65.
• Gordon won last October's race at Martinsville and Jimmie Johnson won the two before that, giving each eight career wins at the track, tied for the third most all time. Since 2003, they each have 17 top-fives 22 races at the track with an average finish better than fifth.