Coming off yet another "clutch" win in the NCAA Tournament, Kentucky is headed to what seems like an improbable Final Four berth as an 8 seed. Just two weeks ago, John Calipari's group of talented youngsters was not ranked among the Top 25 teams in the final Associated Press poll before the NCAA Tournament.
Who knows where the Wildcats would be ranked if there were a poll this week – one has to believe the Top 10, if not the Top 5 – but a large part of the turnaround has been their improved outcomes in close games. Kentucky is 3-0 in games decided by five points or fewer in the NCAA Tournament, tied for the best record in five-point games over the couple of weeks since the tournament field was announced.
Having seen the Wildcats come through down the stretch to knock off three straight national title contenders on their way to Arlington, it's important to note that they actually struggled mightily in close games before the tournament. Among the 137 Division I teams who played at least 10 games decided by five points or fewer through Selection Sunday, Kentucky's 2-8 record in those games was tied for second-worst at the time.
Worst Win Pct in Games Decided by 1-5 Pts This Season
Min. 10 Games, Through Selection Sunday
But as studies across numerous sports have shown, losing close games – especially against good competition (seven of Kentucky's eight close losses came to teams currently ranked in the Top 60 of the Basketball Power Index) – is not as bad of an "omen" as it might seem. That's especially true when the team in question does well in games that are not as close. The Wildcats fit the bill there, going 22-2 in games decided by more than five points through Selection Sunday, a mark that ranked fifth in Division I at that time.
On Ken Pomeroy's site, there is a metric called "Luck," which measures the difference between a team's actual record and what one would expect it to be given the team's game-by-game efficiencies. This measurement was conceptualized by ESPN's own Dean Oliver. It doesn't represent all forms of luck and may capture some elements that are not purely luck, but it is specifically designed to isolate teams that "should be" better or worse than their record indicates, usually based on extreme records (further from .500) in close games.
As of Selection Sunday evening, Kentucky ranked 310th out of 351 in terms of "Luck," worse than all but three other teams in the NCAA Tournament field. Of course, luck, if that's what is measured, is not a bad category to rank that poorly in. By definition, "luck" is generally not something you have much control over going forward. For perspective, the team Kentucky beat to get to the Final Four, Michigan, was 9-2 in five-point games and ranked 67th in "Luck" at the same point in time.
Rankings that take into account point margins, such as KenPom and BPI, attempt to eliminate a good deal of the luck component and look at how good these teams actually are. Kentucky was ranked 16th in KenPom and 10th in BPI as of Monday, March 17. Systems that are heavily influenced by the final result of win or loss with little regard to margin – like the AP Poll – had a much lesser opinion of the Wildcats.
Compare their rankings in the poll versus BPI on a week-by-week basis going back to mid-December (when BPI was first available for this season). After voting the Wildcats No. 1 in the preseason poll and initially giving them some leeway, voters reacted much more strongly to the losses than BPI did. The gap between the rankings widened during conference season as Calipari's squad competed with nearly everyone, but wound up on the losing end a few times.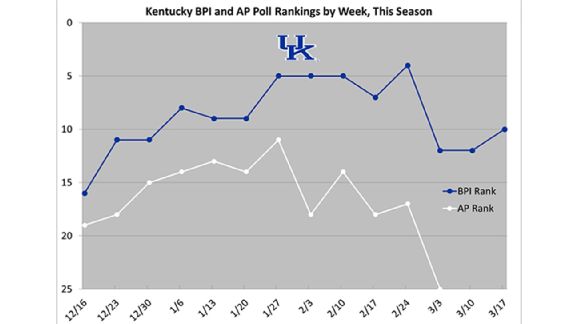 ESPN Stats & Info
In rating systems that looked at point margin, Kentucky's close losses were not as penalizing, and the Wildcats never dropped as far as they did among poll voters and much of the general public. Once "luck" was taken out of the evaluation, Kentucky looked like a pretty solid team – maybe not a top championship contender, but certainly not an average 8 seed with little chance of making the second week of the Tournament. In that light, Kentucky's run to the Final Four seems much more reasonable – even if they needed a little change of "luck" to help pull it off.