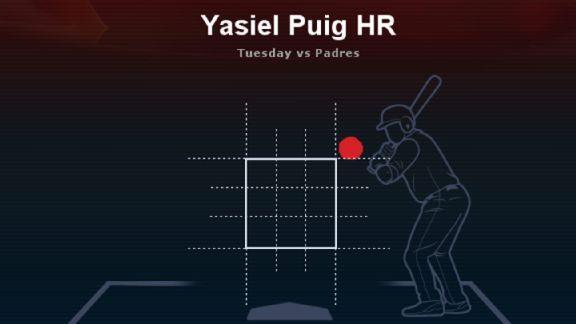 Yasiel Puig looked more like the 2013 version of himself on Tuesday night.
Puig hit a 392-foot homer against Ian Kennedy in the top of the first inning, giving Zack Greinke the run support he would need in a 3-2 win.
The image atop the article shows where the pitch was. It was in a location that is extraordinarily difficult for a right-handed batter to hit a home run against.
Since the start of last season, only five righties homered against a pitch thrown to that approximate spot. The others are Placido Polanco, Jose Altuve, Alcides Escobar and Alberto Callaspo.
Righties miss on one-third of their swings against pitches to that area. Puig's two swings on pitches to that location both resulted in misses, one against a 94-mph fastball from Homer Bailey, the other against a 95-mph pitch from Edwin Jackson.
Puig vs Inner-Third from RHP
But Ian Kennedy's 93-mph offering was just right for him. Puig had success against inside pitches from right-handers early last season, with 34 hits on the first 299 he saw on the inner-third of the plate, or off the inside corner.
Tuesday's homer was his eighth hit on 178 inside pitches thrown to him since then.
It was the 20th home run of Puig's career. Six of them have come against the Padres, including ones of 447 and 443 feet last season.