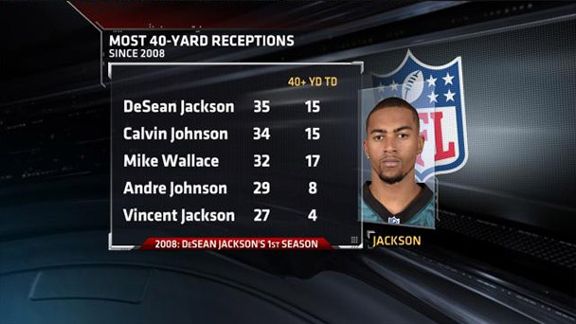 Late Tuesday, the Washington Redskins agreed to a three-year deal with wide receiver DeSean Jackson, bolstering themselves in an area at which they were lacking depth heading into the 2014 season.
Jackson had career-highs with 82 catches, 1,332 receiving yards and tied a career-high with nine touchdown receptions for the Philadelphia Eagles last season. He's one of three receivers to average at least 17 yards per catch over the last six seasons, along with Vincent Jackson and Malcom Floyd.
It's part of a Redskins retooling under new head coach Jay Gruden.
How he fits
The Redskins appear set to replace Santana Moss and Josh Morgan with Andre Roberts and DeSean Jackson for next season, offering Robert Griffin III (and Pierre Garcon) a little more help.
RGIII Passing by WR Target
2013 Season
Griffin completed 63 percent of passes targeting Garcon last season, but only 56 percent targeting all other wide receivers.
Jackson has thrived against the NFC East throughout his career. His 17.7 yards per catch against the division rank fourth-most since his first season, 2008. He has 10 career touchdowns, five of which came against the Redskins.
Jackson and Roberts combined for 125 catches last season, more than twice as many as Moss and Morgan (62).
Best skill: Big yardage
The graphic atop this article illustrated where Jackson can be a difference maker.
Only the Rams (5) had fewer 40-yard pass plays than the Redskins (6). The Eagles led the league with 18, eight of which were recorded by Jackson.
Jackson should help a struggling Griffin with his deep ball. Jackson had two more touchdown receptions (7) on passes at least 15 yards downfield than Griffin had touchdown passes (5) on such throws last season.
Nick Foles connected on 71 percent of his throws to Jackson, the second-highest completion percentage among the NFL's quarterback-receiver duos (Aaron Rodgers had a 75 percent completion percentage to Jordy Nelson).
There are 31 receivers or tight ends who have at least 300 catches from 2008 to 2013. Jackson's 5.5 yards after catch per reception average is the best of those 31.