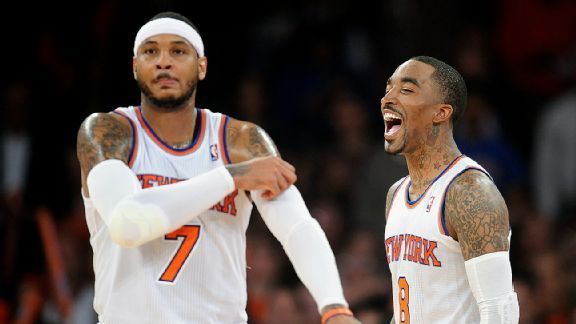 Joe Camporeale/USA TODAY Sports
Carmelo Anthony and the Knicks are peaking at the right time now.If the NBA season ended today, the New York Knicks – yes the Knicks – would be in the playoffs.
Thanks to a scorching hot March, the Knicks currently sit in the eighth and final playoff spot in the Eastern Conference.
So how have they turned what was a disaster of a season into a potential playoff berth?
Streaking
It has been a tale of two seasons since the start of February. The Knicks have won 12 of their last 15 games, including an eight-game winning streak at the end of March.
Knicks Since Feb. 1
During that streak, the Knicks shot 48 percent from the floor, 39 percent from three-point land and averaged 109 points per game.
Prior to that win streak, the Knicks were struggling and dropped 13 of 15 games.
One key to their turnaround has been improved transition offense and defense.
Since March 5 (which includes 12 wins in 15 games), the Knicks are outscoring their opponents by 1.2 points per game on the break; in the first 61 games of the season, they were outscored by nearly four fast-break points per game.
Supporting cast
Carmelo Anthony continues to get his 27-28 points per game, but the difference recently is that he is getting help from his supporting cast as well.
• J.R. Smith has improved his shooting percentage from 39 percent before March 5 to 47 percent since then;

• Pablo Prigioni has made 17 of 28 from beyond the arc and is averaging 9.6 assists per 48 minutes over the last 15 games;

• Tim Hardaway Jr. is averaging 12.1 points per game and has just six turnovers in the last 15 games while playing 25 minutes per game;

• Knicks have outscored their opponents by 93 points in the 356 minutes Iman Shumpert has been on the court since March 5, the second-highest plus-minus on the team behind Anthony over the last 15 games.
Finish strong
Each of New York's final six games are against playoff teams, beginning tonight when it hosts the Washington Wizards.
The Knicks have lost both matchups against the Wizards this season and are looking to avoid being swept by Washington for just the second time in franchise history. The only other instance was in the 1984-85 season when the Washington Bullets won all six of their games against the Knicks.
If the Knicks end up tied for the final playoff spot with either the Atlanta Hawks and/or Cleveland Cavaliers, they only hold the tiebreak over the Cavaliers. A tie with the Hawks or a three-way tie would result in Atlanta making the postseason.
Katie Sharp and Rachel Stern contributed to this post