The story of the Miami Heat win over the New York Knicks on Sunday afternoon can be told in a series of shot charts that illustrated the difference in the performance of the two teams.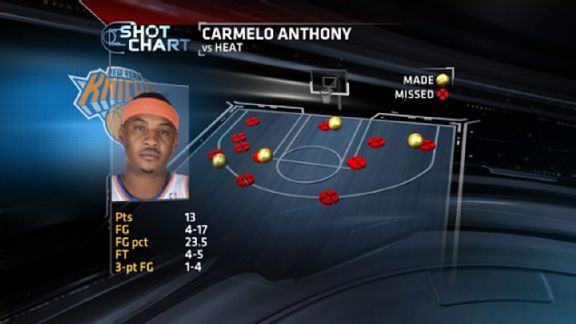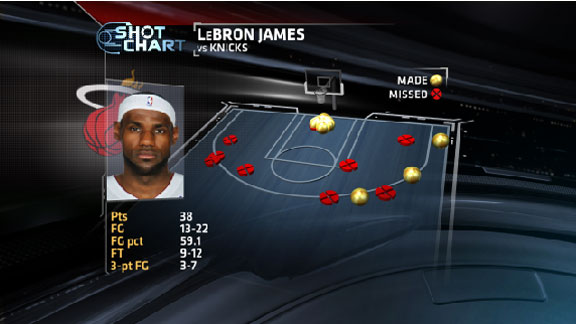 Anthony vs James: One-sided matchup
The matchup between Carmelo Anthony and LeBron James went to James in a big way.
Four 30-Point Games vs Knicks
Single Season in Last 25 Years
James outscored Anthony, 38-13, and became the fourth player in the last 25 seasons to post four 30-point games in a season against the Knicks.
Anthony is shooting 29 percent from the field in his last two games. This marks the first time all season that Anthony failed to score 20 points in consecutive games.
James' teams has now beaten Anthony's in 14 of 26 meetings, including playoffs.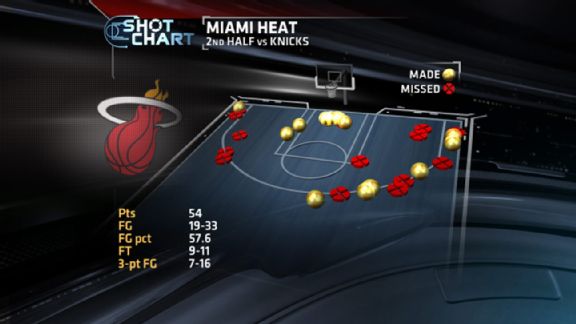 Heat dominate paint in 2nd half
Dwyane Wade and Chris Andersen -- who were both out Sunday -- are the Heat's second and fourth leading scorers in the paint this season.
Without those two, James had to carry the load early and accounted for 12 of the Heat's 14 paint points in the first half. James went 10 of 11 inside the paint overall Sunday.
The Heat were 11 for 12 in the paint in the second half, outscoring the Knicks 22-12 in the keyafter entering halftime even in paint scoring, 14-14.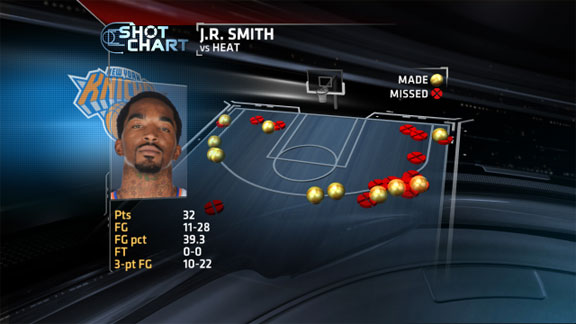 Smith sets a record
Knicks guard J.R. Smith attempted an NBA-record 22 3-point field goals, making a team-record 10 of them.
Smith was quick to pull the trigger, with 17 of his 22 attempts coming on catch-and-shoots (a shot within 2 seconds of receiving a pass). Smith was 9 of 17 (53 percent) on these attempts, with the rest of the Knicks going 4 of 17 (24 percent).
When Smith shot off the dribble, he was only 1 of 5 on 3-pointers.
Fourteen of Smith's 22 attempts were contested. Smith was 6 of 14 on contested 3-pointers (43 percent) and 4 of 8 on open attempts.
Entering Sunday there were a combined 1,200 instances of a team playing a game this season and attempting fewer than 22 3-point field goals.
That means teams have elected to shoot fewer 3-pointers than Smith did Sunday 52 percent of the time this season.
Smith's 28 field goal attempts were the most with no paint attempts in the 18 seasons for which we have shot-location data.
He also joined George McCloud and Mike Miller as the only players to make at least six 3-pointers in three straight games.