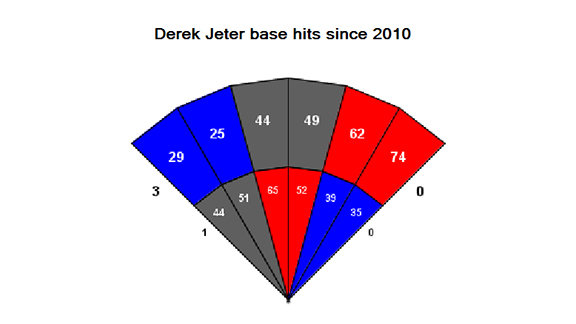 Derek Jeter gets a lot of his hits by going to the opposite field.Derek Jeter passed Paul Molitor into eighth place on baseball's all-time hit list, and the two hits he recorded Sunday to give him 3,320 for his career were in true Jeterian fashion.
Jeter has four hits in 2014, all opposite-field singles. In fact, all 11 of the balls that Jeter has put into play this season have been hit to the right of the second-base bag.
That's not surprising.
Most Hits, All with One Team
Over the last five seasons, 37 percent of Jeter's hits have been to the opposite field; that's the higher percentage by any right-handed hitter over that time The average right-handed hitter over that same timespan had slightly less than one-fourth of his base hits (23 percent) to the opposite field.
It will be awhile before Jeter's next "catch" on the all-time hits list. He's 99 hits shy of Carl Yastrzemski for seventh place. Yastrzemski and Stan Musial (3,630 hits) are the only players with more hits, all for a single team, than Jeter has for the Yankees.
The next milestone for Jeter will be in doubles. His next double will give him one more than Ted Williams. He needs nine to catch Lou Gehrig's Yankees record of 534. He's also 11 runs shy of catching Gehrig for the second-most runs scored in Yankees history, behind only Babe Ruth.
Jeter and the Yankees return home for their first game at Yankee Stadium this season against the Baltimore Orioles on Monday.
Jeter's 341 hits against the Orioles are second-most against the franchise since the team moved to Baltimore in 1954, behind only Carl Yastrzemski (363).