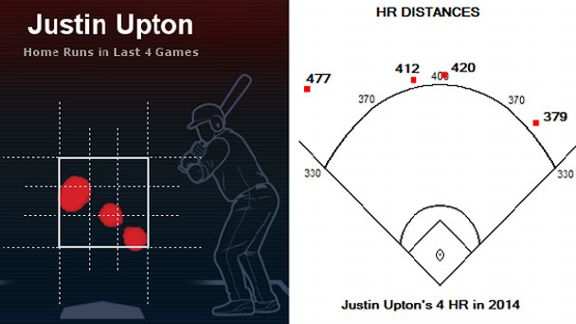 Justin Upton is averaging 422 feet on his home runs this season.Atlanta Braves right fielder Justin Upton homered Sunday in his first at-bat for his fourth home run in his past four games.
Justin Upton in April
Last 2 Seasons
Upton has four straight games with multiple hits and multiple runs scored, matching the Braves' modern-era record previously set by Bobby Thomson (1956), Javy Lopez (2003) and Andruw Jones (2003).
Upton's surge has been reminiscent of how he fared in the opening month of last season, when he led all of baseball with 12 home runs.
His work was the biggest key in why the Braves swept the Nationals three straight games over the weekend. They've now won five of six from the Nationals this season.
How he's hitting
There isn't much you can throw past Upton these days. He has a pair of home runs on changeups in the last four days (one versus Jenrry Mejia and one against Gio Gonzalez on Sunday). Monday night will be a matchup of strength versus strength, as Phillies starter Roberto Hernandez had eight strikeouts with his changeup in his last start.
Trying to throw one by him may not work either. Upton also has six hits and two walks in his past 10 plate appearances ending with fastballs.
How do you get Upton out?
Upton's strength is hitting the pitch in the lower half of the strike zone. He's 15-for-34 with two homers against pitches in that area this season.
Upton is 2-for-10 with six strikeouts and a 45 percent miss rate (percentage of swings missed) on pitches in the upper half of the strike zone or above, in line with the .200 batting average he posted on those pitches last season.
The one risk in pitching Upton up there is that he does have power against those pitches. Since the start of last season, he's averaged a homer every 37.5 swings against them, compared to one every 47.5 swings against lower-half pitches.