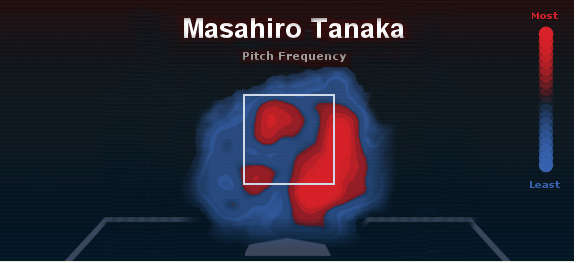 Masahiro Tanaka kept the ball away from lefty hitters in his first two starts.Today marks start no. 3 for Masahiro Tanaka, as he'll face the Chicago Cubs at Yankee Stadium.
Tanaka completed seven innings in each of his first two Major League starts with a 1-0 record, a 3.21 ERA and a strikeout per nine rate north of 11.5. Let's take a look at just how good Tanaka has been:
Historical context
Tanaka struck out eight Blue Jays and recorded a win in his MLB debut. He followed that up with 10 strikeouts against the Orioles. According to the Elias Sports Bureau, Tanaka's 18 strikeouts are the most for any pitcher in his first two starts with the Yankees.
If Tanaka strikes out eight or more Cubs Wednesday, he will join Stephen Strasburg as the only pitchers in the last 100 years to strike out eight or more batters in each of his first three Major League starts.
Tanaka faces the Cubs Wednesday, who rank 25th in strikeout percentage this season at 24.1 percent.
According to the Elias Sports Bureau, Tanaka is also going for the following:
- Most strikeouts in first three appearances as a Yankee (27 by Bob Turley in 1955)
- Most strikeouts in first three career appearances, with all three coming as a Yankee (25 by Al Leiter in 1987)
- Most strikeouts in first three career appearances in AL history (25 by Leiter in 1987 and Chris Archer in 2012)
Pitch type
Of his 198 pitches on the season, Tanaka has thrown 95 fastballs, 43 splitters, 42 sliders, 13 curveballs and five cutters. Hiroki Kuroda is the only qualified starter who has thrown a higher percentage of splitters than Tanaka's 21.7 percent. However, no one has missed more bats with the splitter than Tanaka (15).
Part of why Tanaka's splitter has been so successful early on is the velocity. With an average velocity of 87.1 miles per hour, Tanaka's splitter is 4.6 miles per hour slower than his fastball. That is the smallest difference among 12 starters who have thrown 10 or more splitters in 2014.
The fastball and splitter may look similar coming out of Tanaka's hand, but the difference in vertical drop between the two pitches has been extreme.
Tanaka's fastball is dropping at an average of 11.6 feet per second when it crosses the plate, right around the league average of 12.0 feet per second.
Tanaka's splitter averages a drop of 17.0 feet per second as it crosses the plate. His 5.4 feet per second difference in vertical break between fastball and splitter ranks second behind Tim Hudson.
Pitch location
In the image atop this article, the hot zone on the right comes from Tanaka keeping his splitter down for batters on both sides and his fastball down and away to lefties. The one near the upper left corner of the strike zone (from pitcher's perspective) is partially due to Tanaka leaving a few sliders up in the zone to righties.
Hitters have made Tanaka pay on the few pitches he has left up in the zone. Tanaka has only left two splitters up and Melky Cabrera hit one of those 400 feet for a home run. Tanaka left an 83 mph slider up to the Orioles' Jonathan Schoop and that one landed in the second deck at Yankee Stadium for a 407 foot home run.
The pitch sequence in Adam Jones' second at-bat on April 9 represents the best we have seen from Tanaka in terms of location. Tanaka kept all seven pitches in the at-bat down or below the zone.
The first three pitches were all fastballs that went away, in and away. The heaters got Tanaka ahead in the count 1-2 and they were followed by a slider low and away, a splitter in the dirt and another slider low and away. Tanaka went back to the splitter in a 2-2 count and recorded the strikeout on a swing and miss from Jones.