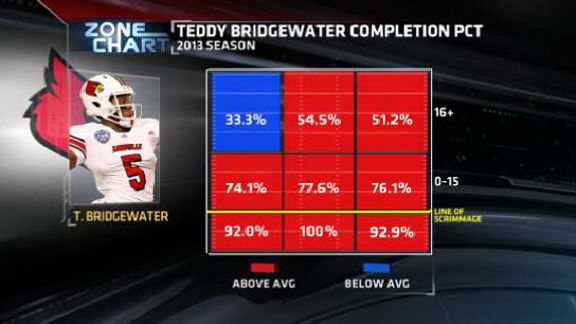 Entering the 2013 college football season, Teddy Bridgewater was the consensus No. 1 quarterback prospect and a likely top-2 pick in the 2014 NFL draft.
After Bridgewater's shaky pro day and below-average combine measurements, questions emerged about whether he should be the first quarterback taken off the board.
In preparation for ESPN "Monday Night Football" analyst Jon Gruden's "QB Camp" show with Bridgewater (airing Tuesday at 9 p.m. ET on ESPN), here is an in-depth breakdown of Bridgewater's greatest strengths and causes for concern when evaluating him as a pro prospect.
Greatest strengths:
1. Accuracy:
Bridgewater completed 71 percent of his passes last season, the highest completion percentage of any qualified AQ quarterback. He was not just throwing short passes and screens; Bridgewater's average pass traveled 9.5 yards past the line of scrimmage, which is a full yard and a half farther than the AQ average and longer than any qualified NFL quarterback last season.
Highest Completion Percentage
AQ QBs, 2013 Season
Bridgewater was at his best on short-to-intermediate passes. On passes thrown between 5 and 15 yards downfield, Bridgewater completed 77.2 percent, best of any AQ player in a single season since 2011. Such accuracy allowed Louisville's receivers to make plays after the catch. The Cardinals led the American Athletic Conference in yards gained after the catch on these intermediate passes.
As a result of his pinpoint accuracy, Bridgewater had just four interceptions in 427 passing attempts last season. Only four FBS players had a lower interception rate than Bridgewater's.
2. Poise under pressure
Bridgewater's completion percentage when under duress was 53.5 percent, third-best among AQ quarterbacks. To put that into perspective, the average completion percentage in such situations was 35 percent.
Sending extra pass-rushers did not faze Bridgewater. He ranked second among AQ quarterbacks in completion percentage when blitzed (70.1 percent) and threw 15 touchdowns and just one interception when facing five or more pass-rushers.
According to Todd McShay: "No QB in this draft shows on tape a better understanding of his offense and how to read defenses and blitzes than Bridgewater."
Concerns:
1. Size/measurables:
Bridgewater measured in at 6-foot-2, 214 pounds at the NFL combine. At his pro day, he was six pounds lighter, at 208 pounds.
There are only five active NFL quarterbacks who are listed at 208 pounds or lighter. Of those five, only Seattle's Russell Wilson is a starter.
Bridgewater also has the smallest hands (9.25 inches) measured of any of the top QB prospects. There have been 39 quarterbacks since 2008 who have had a hand size of 9.25 inches or smaller at the NFL combine. Of those players, only 18 percent have started half of an NFL season (eight games) and none has made the Pro Bowl.
Hand Size Data
Since 2008 Combine
In comparison, of the 36 players with a hand size larger than or equal to Johnny Manziel's (9.88 inches) since 2008, 31 percent started at least eight NFL games and four have already made the Pro Bowl.
Given Bridgewater's below-average hand size and his lack of experience in cold temperatures (he did not start a single game in freezing temperatures while at Louisville), teams may question his ability to grip the football in cold weather.
2. Downfield passing
After Bridgewater's pro day, questions emerged about his accuracy and velocity on downfield passes.
Bridgewater's statistics in his final college season confirm the scouts' concerns. He completed 39.1 percent of his passes thrown 20 yards or farther downfield, the second-lowest percentage of the top 10 QB prospects ranked by Scouts Inc.
The issue is arm strength. As noted above, Bridgewater is one of the most accurate quarterbacks in the nation on intermediate passes, but when he has to throw it farther downfield, the ball tends to hang in the air.
Tune in Tuesday night at 9 as Gruden takes a closer look at Bridgewater's downfield accuracy and pro potential.