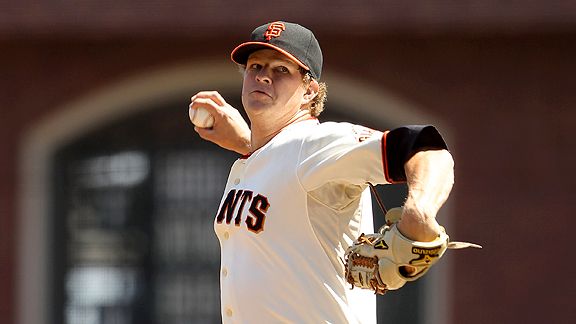 Ezra Shaw/Getty Images
The Giants' Game 2 starter, Matt Cain, has found AT&T Park to be much to his liking of late.
If history is any indicator, chances are that one of the day-after discussion points about Game 2 of the Braves-Giants NLDS will be on how unfortunate one of the starting pitchers was. That's the same talk taking place Thursday regarding Braves Game 1 starter Derek Lowe.
For Game 2, the subject of hard luck refers to the run support for Matt Cain and Tommy Hanson, which hasn't historically correlated with their records. In Hanson's case, that's why he was a sub-.500 pitcher this season after the All-Star break. His 2-6 record and 2.51 ERA are largely a product of the Braves' scoring an average of 2.9 runs per game in his 16 second-half starts. Amazingly, over a five-start stretch in July and August, Hanson had a 1.05 ERA and a .169 opponents' batting average … and no wins.
Cain has no sympathy, as this was an issue he dealt with for years. But over the last two seasons, the Giants' offense has been kind to him, averaging slightly more than four runs per game. That's significantly better than the three-year run from 2006 to 2008, in which Cain was the least supported pitcher in the majors.
Cain has a good comfort zone at AT&T Park. The Giants have won seven of his past eight starts there, the exception being his final regular-season start against the Padres. In Cain's last six starts, he had the total support of the Giants' bullpen. Giants relievers allowed one run in 13 innings in Cain's starts in September and October.
How They Get It Done
For much of the season, Cain's out pitch was his changeup, but September saw a shift in success. From April to August, Cain threw his curveball with two strikes 13 percent of the time. He upped that to 20 percent in September and used it to get 13 outs in those situations, without giving up a hit in a stretch that lasted until his last appearance.
Hanson's key is the effectiveness of his slider, which he throws about once every four pitches, but recently the curveball has been a winning option. According to Inside Edge, he didn't give up a hit with any of the 93 curveballs he threw in his last seven starts.
Matchup to Watch
Braves shortstop Alex Gonzalez is 0-for-9 for his career against Cain, including 0-for-5 against him this season with a pair of strikeouts. That's within striking distance of Gonzalez's all-time worst 0-for against a pitcher. He's 0-for-11 in his career against former Braves reliever Mike Remlinger.
Stat of the Day
The Giants haven't had consecutive postseason games in which they've held their opponent scoreless since doing so in the 1917 World Series.