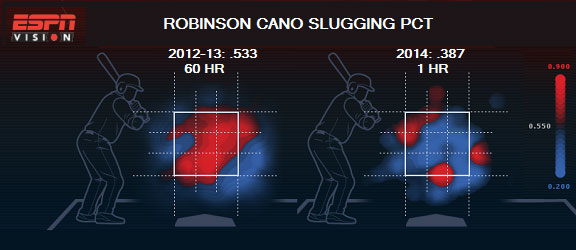 Robinson Cano has not supplied much power yet in 2014.Robinson Cano returns to a comfort zone-- the Bronx-- as the second baseman for the Seattle Mariners, who face the New York Yankees tonight to start a 10-game road trip.
Cano was one of the most prolific middle infielders in Yankees history. He ranks first among those who primarily played second base for the Yankees in both home runs and doubles and ranks second among those who played the position in RBIs.
Robinson Cano
At Yankee Stadium From 2005-13
He's one of six Yankees to hit at least 25 home runs in five straight seasons, along with Babe Ruth (14 straight), Lou Gehrig (12), Mickey Mantle (9), Alex Rodriguez (7) and Joe DiMaggio (6). Cano's seven seasons of at least 40 doubles with the Yankees are tied with Gehrig for the most in team history.
The chart above right shows how Cano has fared in Yankee Stadium, a place in which he thrived consistently.
Cano is off to a bit of a slow start power-wise. He has only one home run through the Mariners first 24 games, the second time in three seasons he's had only one homer in his team's first two dozen games. In 2012, when he did so, he finished the season with 33 home runs, the most he's hit in any season in his career.
In an Insider piece a week and a half ago, Justin Havens broke down Cano's power struggles. Basically, Cano is hitting more ground balls than he usually does (54 percent of his batted balls … he hovered between 44 and 49 percent in each of the last four seasons). He also started the season trying to go to center field and left field more often, but without the success he had in New York.
His rate of hitting batted balls that our system classified as "hard-hit" was 22 percent last season.
So far in 2014, it's only 13 percent.
Cano has not yet been able to do with the outside pitch what he typically has been able to do in years past-- hit it for power. His 40 home runs against outer-half pitches over the last two seasons are fifth-most in the majors in that span. He has one home run against the 235 outer-half pitches he's seen in 2014.
That said, Cano is still hitting for average. He's hitting .301 this season, with 11 hits in 26 at-bats in his last seven games (a .423 batting average). He's finished each of the last five seasons with a batting average of .300 or better. The only other player to qualify for the batting title in each of those five seasons who did that is Miguel Cabrera.
Inside tonight's matchup
Cano will be matched up against his former teammate, Yankees starter CC Sabathia.
Cano has historically held his own against lefties very well. Over the last six seasons, his slashline against them is .286/.340/.462. Left-handed hitters have had a sub-.300 on-base percentage against Sabathia in each of the last three seasons. He has limited lefties to three hits in 15 at-bats this season, with five strikeouts.
Sabathia has a very good history against the Mariners. His 2.48 ERA against them is his lowest ERA against any AL team. Sabathia's eight straight wins against the Mariners match the longest winning streak against them in Yankees history, tying Ron Guidry (1982 to 1985) and Mike Mussina (2001 to 2008).
Cano will be looking to break out of a funk of sorts. He has seven RBI in seven games against the Rangers, but only four RBI in 17 games against other teams.
Jon Kramer also contributed to this post