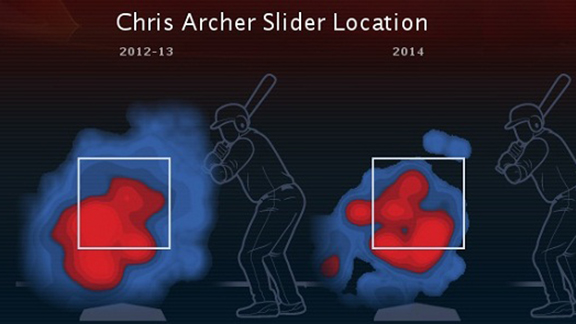 ESPN Stats & Info
Righties have been taking advantage of Archer's inconsistent slider this season.
The Boston Red Sox host the Tampa Bay Rays on Wednesday night at 7 ET on ESPN.
While the Sox are the defending champions, things have really taken off for the Rays since Joe Maddon took over in 2006. Here is a closer look at a couple of the key matchups to watch in this game.
Chris Archer's slider
Archer held right-handed batters to an MLB-low .455 OPS in 2013 (min. 20 starts). Righties have been a much tougher out in 2014 as Archer has seen his batting average on balls in play jump from best in baseball to fourth worst.
Chris Archer vs. Righties
Part of this decline against righties has come from Archer's inconsistent slider location. As shown in the heat map above, Archer is throwing it up in the zone more often than in his previous two seasons, and he is not staying away from right-handed hitters with the pitch.
Red Sox righties have a batting average of .143 and no extra-base hits against Archer; lefties have a .355 average and a .484 slugging percentage.
David Ortiz vs. the shift
The Rays have shifted on 1,566 balls in play over the last four seasons, 269 more than the next-closest team (Baltimore Orioles).
Most DRS From Shift
Last 3 Seasons
Since the start of 2012, the Rays have 26 Defensive Runs Saved resulting from the shift, the most in baseball. The next three teams on that leaderboard are all from the AL East: Orioles (24), Red Sox (24) and Blue Jays (21).
But this season, Tampa Bay has shifted on only 56 balls in play so far, 14th most in the majors. In fact, they are on pace to shift on only 363 balls in play this season, which would be much less than their 556 such shifts last season (second most in MLB).
Ortiz
Ortiz, the most shifted batter in baseball since the start of 2013, is hitting .233 on grounders and short liners when the shift is on and .350 without a shift over the last two seasons.
Preventing a shift against Ortiz comes down to getting runners on base. That has been a problem in 2014 as Red Sox leadoff hitters have struggled to get on base, ranking last in the league in batting average (.218), 27th in on-base percentage (.280) and 29th in slugging (.264).