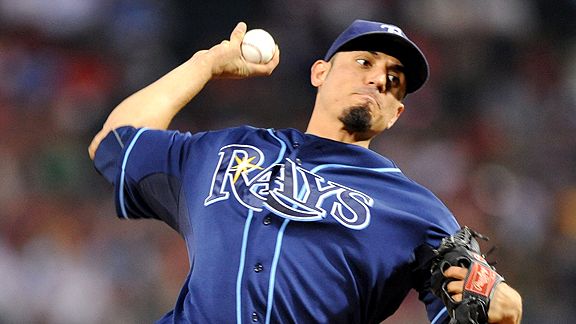 Michael Ivins/Boston Red Sox/Getty Images
It will be up to 2008 ALCS MVP Matt Garza to keep the Rays pennant hopes alive in Game 3 of the ALDS
The Texas Rangers might have the fourth-best regular-season record of the American League teams in this year's postseason, but so far they've come out looking as stellar as the best of the best.
Rangers pitchers have held the Tampa Bay Rays to a .125 batting average, and this Tampa Bay team can't do the harm on the bases that it did during the regular season if it can't get on the bases in the first place. The Rays haven't hit well and they haven't pitched well. They've managed just one run in two games this postseason, a combination they had only once all season, in May. They'll turn to 2008 ALCS MVP Matt Garza, whose previous postseason performance earned him a reputation for being a big-game pitcher. Garza went 2-0 against the Rangers this season, one of only two pitchers to win at least twice without losing to them (Ricky Romero was the other).
The Rangers have never won a postseason series. They're the only team in the major leagues who can make that claim. They'll send Colby Lewis to the mound to go for the sweep and will try to become the first team since the 2003 Yankees to hold an opponent to one run or fewer in three straight games.
Matt Garza's Last 5 Starts
2010 Season
The game will turn on …
Rays starter Matt Garza's ability to prevent the Rangers from crushing his fastball in a ballpark in which he's allowed 16 earned runs in 15 1/3 innings over his last three starts. Garza allowed only one home run with his fastball in August, when he posted a 1.27 ERA in five starts. He allowed six with it in September, when his ERA was 5.88 (though in his last two starts, he was much sharper). The Rangers, who hit fastballs better than any team in baseball, crushed fastball-happy David Price in Game 1 en route to victory. Garza throws his fastball 72 percent of the time, fourth-most among pitchers who qualified for the ERA title this season.
Or perhaps Colby Lewis's slider will be the difference-maker. It was a considerably more effective pitch for Lewis in his last five starts. According to our Inside Edge video database, hitters chased it when it was thrown out of the strike zone 57 percent of the time in that stretch (compared to 47 percent prior to that). The slider netted Lewis 32 outs in those last five starts, while yielding only six hits.
Matchup to Watch
Josh Hamilton is 2-for-15 career against Matt Garza and 0-for-his-last-8 against him. Of the 27 right-handed pitchers whom Hamilton has faced at least 15 times, his .133 batting average rates third-worst (better only than the 0-for-16 against Zack Greinke and the .083 average against James Shields). Garza has struck Hamilton out six times, including two in three clashes with him this season.
Stat of the Day
Four different Rangers have already hit home runs this postseason: Nelson Cruz, Bengie Molina, Ian Kinsler and Michael Young. Prior to this year, only two Rangers had ever hit a postseason home run - Juan Gonzalez and Dean Palmer.