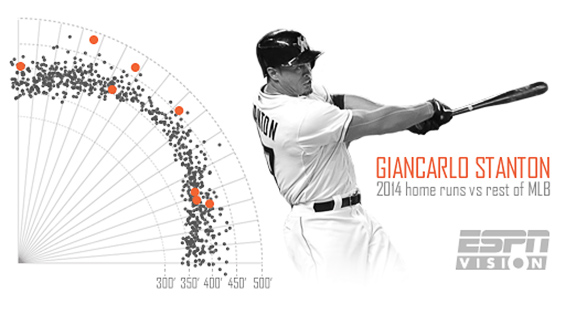 ESPN Stats & Info
Giancarlo Stanton crushed the ball in April, earning him our Home Run Hitter of the Month award.
ESPN Stats & Info's Home Run Tracker Team tracks every home run hit in the majors. Here are a few standout performances from the month of April.
Home Run Hitter of the Month: Giancarlo Stanton
Giancarlo Stanton dominated the home run headlines in April, hitting three of the nine longest homers of the month. On April 4, he launched an Eric Stults pitch 484 feet to left center field for the longest home run in the history of Marlins Park and the longest home run of the 2014 season.
Stanton wasn't done there, as he added a 469-footer on April 12 and a 457-footer on April 15. There have been 13 home runs hit of 450+ feet in all of MLB this season, and Stanton has hit three of those. In fact, since his rookie season in 2010 no hitter has hit more 450+ foot home runs.
Performance of the Month: Michael Morse
Longest Average HR Distance
This Season
At Coors Field on April 23, Michael Morse hit a 458-foot homer off Tyler Chatwood in the second inning and a 450-foot homer off him in the third inning, the two longest home runs of the season at Coors Field. Morse became just the third player since ESPN began tracking home runs in 2006 to hit two 450+ foot home runs in the same game.
It was quite an April for Morse as he added 449 and 442 foot home runs as well and finished the month with a major league leading 440 foot average home run distance, 42.5 feet further than the MLB average (397.5).
Other notable performances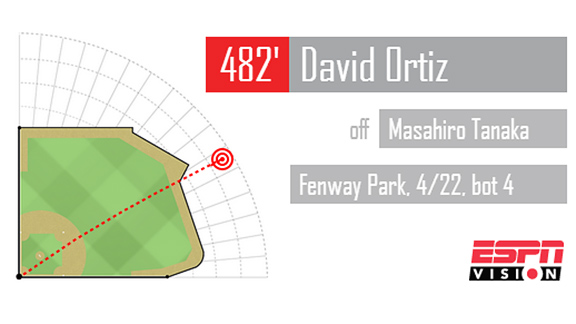 ESPN Stats & Info
Ortiz hit the longest home run by a Red Sox hitter since ESPN Stats & Info began tracking home runs.
• On April 22 David Ortiz hit a ball 482 feet off Masahiro Tanaka at Fenway Park, the second longest homer of the season. Not only was it the longest homer for Ortiz since ESPN began tracking homers in 2006, but it was also the longest home run by any Red Sox hitter. It was the second longest home run hit by anyone at Fenway Park in that period, trailing only Vladimir Guerrero's 484-foot shot against Curt Schilling on July 30, 2006.
The ball left Ortiz's bat at 119.9 mph, the fastest off-bat speed for any home run hit this season. It is the third fastest speed for any home run in the last four seasons.
• White Sox slugger Jose Abreu set an all-time rookie-record with ten home runs before May. Abreu is the only hitter in the American League to hit three home runs of at least 430 feet. On top of that, Abreu hit the two longest homers at Comerica Park this season despite only playing four games in Detroit.
• Earlier this month Albert Pujols became the 26th member of the 500 home run club with a 430-foot homer at Nationals Park. Since ESPN began tracking home runs, six players have reached the 500 homer mark and Pujols' traveled the furthest (430 feet).