Eastern Illinois quarterback Jimmy Garoppolo was the best player in the FCS level of college football last season, and heads to the draft as a big question mark. But history says he has a good chance to be a playoff starter, a Pro Bowler, or perhaps even MVP of the league.
Here is why the FCS star has a great chance to succeed in the NFL:
1. Non-FBS QBs drafted early have productive careers
In the Common Draft Era, there have been 19 quarterbacks taken out of non-FBS schools in the first three rounds...
• Average career length: 9.6 seasons
• 7 have started the Super Bowl (4 of them won: Terry Bradshaw, Phil Simms, Doug Williams and Joe Flacco)
• 13 started a playoff game (9 of them won at least 1)
• 3 won the league MVP (Bradshaw, Ken Anderson, Steve McNair)
• 9 have made the Pro Bowl at least once
• 12 have made at least 75 regular season starts
• 3 are still in the league: Flacco, Tarvaris Jackson and Josh McCown
2. Garoppolo is getting better
Garoppolo took over the starting role midway through his freshman season, and since then he has seen vast improvements in his numbers. Part of this improvement is owed to his head coach, Dino Babers, who had a long career as an FBS assistant and came to EIU from Baylor prior to the 2012 season.
Jimmy Garoppolo – Career
Under Babers, Garoppolo's role in the offense became much larger. In 2011, he attempted 31.7 passes per game; in 2012-13, he averaged 42.6 attempts per game.
The jump he took as a second year player in Babers' uptempo attack in 2013 was evident across the board, becoming a more accurate and efficient passer as a senior. Garoppolo led the Panthers to an FCS-best 590 yards of total offense per game and 48 points per game.
3. The Eastern Illinois lineage runs deep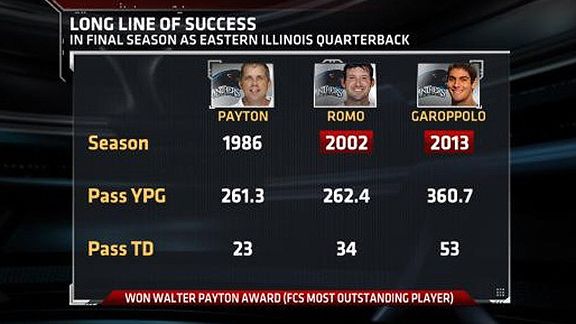 Garoppolo isn't the first big name to come out of Eastern Illinois. In fact, the Panthers have produced several big NFL mainstays.
• Tony Romo: He's the most recent and biggest name to come out of Eastern Illinois and he was the only other EIU player to win the Walter Payton Award (FCS version of the Heisman Trophy) in 2002.
• Sean Payton: Current Saints head coach and Super Bowl XLIV champion. Former EIU quarterback; Garoppolo passed Romo (8,212 yards) and Payton (10,655 yards) on his way a school-record 13,156 yards.
• Brad Childress: Former Vikings head coach, lost to Payton and the Saints in 2009 NFC Championship Game.
• Mike Shanahan: Former Raiders, Broncos, and Redskins head coach. Won Super Bowl twice with Broncos. Former EIU quarterback, returned as offensive coordinator, a position he held when the Panthers won the D-II national title in 1978.