Aaron Murray finished his career with more passing yards and passing touchdowns than any player in SEC history, but the future is murky for the former Georgia star.
NFL teams will be faced with evaluating a player without a prototypical frame who is coming off a season in which he regressed in several areas in addition to suffering a major injury.
Third Down Regression
Murray's ability to convert third down opportunities was an area of consistent improvement through his first three seasons, going from 39.2 percent as a freshman to 45.0 percent as a junior. But last season, Murray converted a career-low 37.3 percent of third downs when his number was called, 51st in the nation and seventh in the SEC.
Murray's Total QBR on third down took a major hit as well, dropping from 87.2 in 2012 to 62.9 last season, lower than all but his freshman season.
This drop isn't owed to pressure in the pocket; he was sacked on just 3.6 percent of his dropbacks, by far the lowest mark of his career.
Active Legs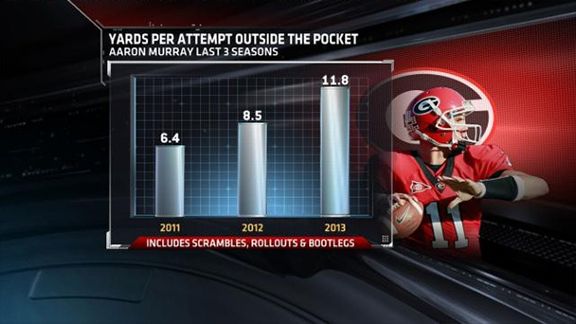 ESPN Stats & Information
Not only did Murray's offensive line play well, but he used his athleticism to get out of tough spots. Over the last four games of his college career, Murray rushed 17 times for 121 yards (not including sacks).
Listed at 6'1" and coming off of an ACL injury, Murray's NFL success could be predicated upon making plays outside the pocket. Throwing on the move was a major area of improvement: his 11.8 yards per attempt on scrambles, roll-outs and bootlegs was the second-highest mark among BCS-AQ quarterbacks last season.
He completed 60.5 percent of those passes, an improvement of more than 10 percent from each of the previous two seasons, and his five touchdown passes equaled his totals from the previous two seasons combined.
Deep Ball Struggles
Murray's average pass last season traveled 8.6 yards downfield, down a full two yards from 2012, and his productivity on deep balls took a significant hit from 2012 to 2013. His 18 touchdowns on 15-yard passes ranked third among BCS-AQ quarterbacks in 2012, while the seven he threw in 11 games last season put him behind 32 other AQ signal-callers.
Aaron Murray Passes of 15+ Yards
Last 2 Seasons
But in any evaluation of Murray's struggles from his senior season, some consideration has to be made for injury trouble of Georgia's other skill position players.
Receivers Malcolm Mitchell and Justin Scott-Wesley suffered season-ending injuries early in the year, as did running back Keith Marshall. Receiver Michael Bennett and running back Todd Gurley also missed time with various injuries, and of course Murray himself suffered a torn ACL late in November.