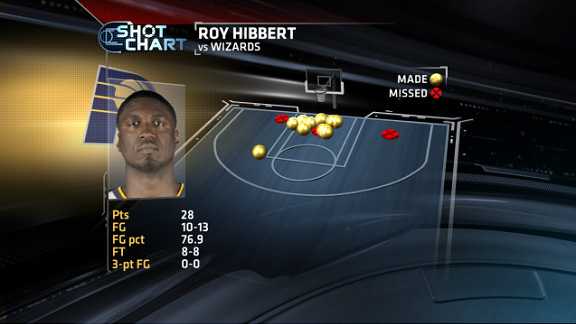 Roy Hibbert dominated in the paint in the Game 2 win.Roy Hibbert came alive in Game 2 and so did his team.
Hibbert's season-high 28 points and 2014 playoff-high nine rebounds paced the Indiana Pacers to an 86-82 win over the Washington Wizards, evening their series at a game apiece.
The Pacers improved to 4-0 this postseason following a loss.
Finally
The Pacers outscored the Wizards by 16 points and shot 50 percent with Hibbert on the floor in Game 2. In the previous eight games this postseason, they were outscored by 29 points and shot only 41 percent with him on the court.
The Pacers utilized post-ups to get Hibbert involved offensively. After running a total of one post-up in Game 1, they had 16 in Game 2, including nine for Hibbert.
Hibbert went 8 for 9 off post-ups. He was 7 for 22 in the first eight games of the playoffs.
Wizards' issues
The loss was the first on the road for the Wizards this postseason.
Washington was 5 for 21 from three-point range after going 10 for 16 in the Game 1 win.
The Wizards were outscored by seven points in the last five minutes. They are now 2 for 14 in the last five minutes of the first two games of this series.
Looking ahead
There have been 203 best of 7 series that have been tied 1-1. The Game 3 winner goes on to win the series 76 percent of the time (154-49).