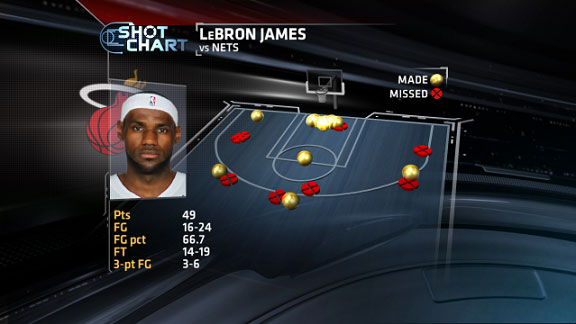 LeBron James carried the Heat to a victory in Game 4The Brooklyn Nets hung with the Miami Heat for 47 minutes despite a brilliant game by LeBron James.
But in the end, the Heat had another trick up their sleeve, as a player who had done little for much of the game came through with the clutch basket.
The Heat are now 7-1 this postseason and have won 10 straight playoff games that immediately followed a loss following their Game 4 win over the Nets.
It was LeBron's night
James scored 49 points, tying his career-best in postseason play (he also had 49 against the Magic with the Cavaliers in 2009). The 49 are a Heat record in any postseason game.
James also had six rebounds, making him the first to have a 49/6 combo on the road since Charles Barkley for the Phoenix Suns in 1994.
James has had three 40-point playoff games since joining the Heat. All three have come on the road.
The Heat took an approach in this game of going as far as James would carry them. He had 89 offensive touches in Game 4. He averaged 56 touches per game in the first three games of the series.
James scored 34 of his 49 points on plays when he attacked the basket (cuts, drives, post ups and putbacks). James shot 11-of-12 in the restricted area compared with 5-of-12 on his jump shots in Game 3.
The game-deciding shot
Chris Bosh drained the three-pointer that put the Heat ahead for good in the final minute.
Bosh had 16 clutch-time three-pointers this season (shots that came in the final five minutes, with the score within five points), tied with Paul Pierce for third-most in the NBA.
Nets go cold down the stretch
The Nets were outscored 13-7 in the final 4:24 of the game. They only managed one basket in that span.
The shot chart below shows how much the Nets struggled in the fourth quarter.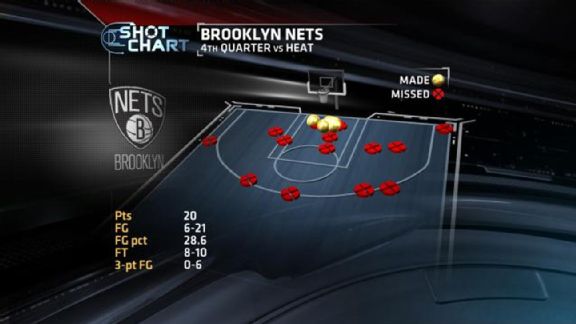 Looking ahead
Teams that hold a 3-1 lead in a best-of-7 series go on to win the series 96 percent of the time. Only eight teams have overcome a 3-1 deficit to win an NBA playoff series.