Michael Brantley seems unaffected by the Cleveland Indians' struggles this season.
Brantley hit a walk-off home run for the Indians on Monday as they defeated the Tigers 5-4 in 10 innings.
It was Brantley's first career walk-off hit, and the Indians' first walk-off home run of the season. The Indians led MLB with six walk-off home runs last season.
BrantleyBrantley's on-base percentage (.365), slugging percentage (.522) and OPS (.886) would all be career-highs. The home run was Brantley's ninth of the year, one shy of his career high of 10 set last season.
There is reason to believe his power streak may not be sustainable, as he has homered on 19 percent of his fly balls this season, nearly four times his career average of five percent.
However last season, Brantley hit 50 percent of his fly balls to the opposite field; this year that number is down to 35 percent.
That is significant because Brantley has never hit a home run to the opposite field in his career. All but one of his career home runs have been pulled.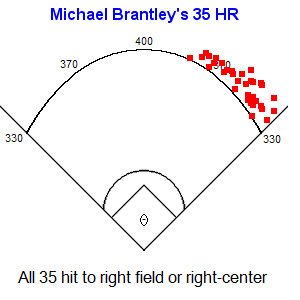 Brantley was 2 for 4 Monday, with both hits coming on pitches on the inner half of the plate. Eight of Brantley's nine home runs this season have come on pitches on the inner half, and his 1.216 OPS on such pitches is second-best in the majors.
It's no surprise Brantley's big hit came at home. He is hitting .348 with six HR and a 1.010 OPS at home, which is fourth best in the AL.
Those numbers are even better in May, as he is hitting .409 with a 1.253 OPS in 11 home games this month.
Key to success: Contact king
Brantley has also been one of the toughest players to strike out this season. Only nine percent of his plate appearances have ended in a strikeout, the seventh-best rate in the league.
Brantley has missed on just 11 percent of his swings, the 10th-best rate in the majors. He is one of 14 players in MLB this season to have more walks (17) than strikeouts (16).