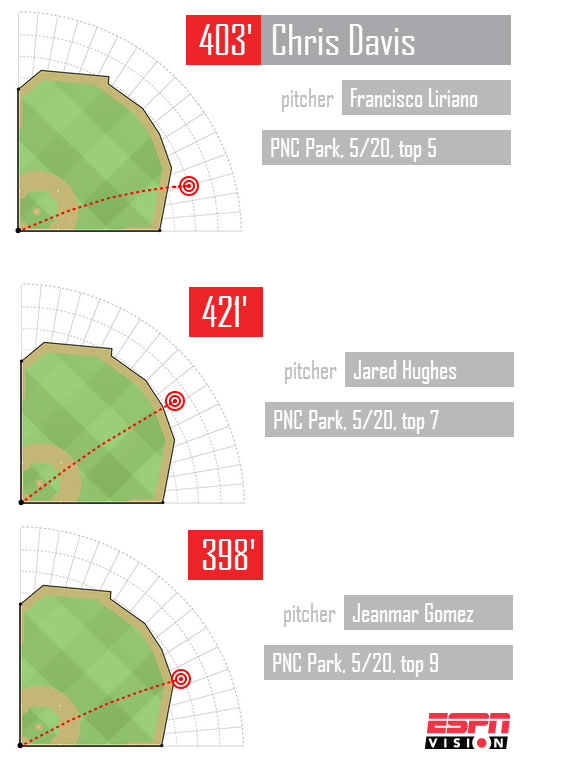 Chris Davis hit more than 1,200 feet worth of home runs.When Chris Davis struck out on a slider down and away (practically in the right-handed batter's box) in the first inning against Francisco Liriano in the first inning on Tuesday, it made him 1 for his last 21 in two-strike situations.
Davis snapped out of his two-strike funk in his next at-bat with a ground-ball single. In his next three turns, he took care of business much earlier in the count.
Davis hit three homers on the next four pitches he saw in helping the Baltimore Orioles to a win over the Pittsburgh Pirates. He hit as many home runs as he'd had in his previous 30 games entering the day.
It was Davis' second career three-homer game (he also had one in 2012). Davis is the second player to hit three home runs in a game this season, joining Ryan Braun of the Milwaukee Brewers.
The nitty gritty
Davis' first homer came on another Liriano slider, though this one hung up in the strike zone. Prior to the homer, Davis had missed on 16 of the 23 sliders he'd seen from left-handed pitchers this season.
The next two homers came on sinkers, one at 92 mph from Jared Hughes and the other, a 91 mph offering from Jeanmar Gomez.
Since returning from the disabled list, Davis had been having trouble timing fastballs. He'd missed on 19 of the 46 he'd seen that were 91 mph or faster. But that would not be the case in this game.
The history
Davis became the first Orioles player with a three-homer game in interleague play. He's also the third player to have multiple three-homer games for the team since it moved to Baltimore in 1954, joining Eddie Murray and Boog Powell, who each had three.
He's the first Orioles player to have at least four runs scored, three home runs and five RBIs in a game since Roberto Alomar did so against the Boston Red Sox in 1997.