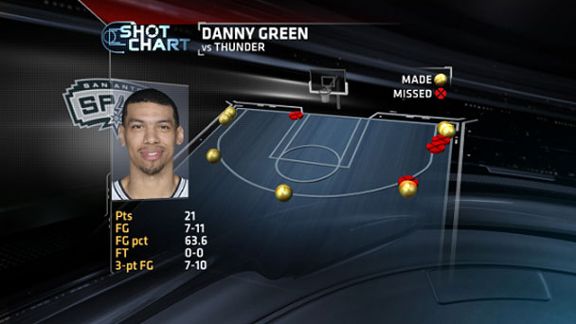 Danny Green was lights-out from 3-point range again.The San Antonio Spurs made it look easy ... again.
The Spurs routed the Oklahoma City Thunder 112-77 in Game 2 of the Western Conference finals.
It was the third-largest playoff win in Spurs history and tied for the worst playoff loss for the Thunder.
The Spurs improved to 8-1 at home this postseason, with seven straight home wins.
The Spurs have outscored the Thunder by 52 points through two games, the most a team has ever outscored its opponent in the first two games of a conference finals.
Difference-Maker: Danny Green
Danny Green tied his playoff career high with seven 3-pointers (he had seven in Game 3 of last season's NBA Finals against the Heat).
Green is now 15 for 21 on 3-point attempts in the last three games, with at least four made 3-pointers in each game.
The Spurs are 17-0 this season (combining regular season and postseason) when Green makes at least four 3-pointers in a game.
Spurs dominate the paint
The Spurs scored 54 points in the paint in Game 2 after scoring 66 paint points in Game 1. This is the first time this postseason they've scored at least 50 points in the paint in consecutive games.
San Antonio has scored 46 more points in the paint than the Thunder in the first two games of the series.
Durant and Westbrook make a minimal impact
Kevin Durant and Russell Westbrook combined to shoot 13 for 40 for the Thunder in Game 2.
Durant has had a hard time getting easy looks this series.
In fact, 64 of his 84 offensive touches against the Spurs have originated above the free-throw line. This has led to a near four-foot increase in average shot distance this series compared to the first two rounds of the playoffs.
The Thunder were outscored by 34 points with Westbrook on the floor, giving him his worst plus-minus in any game in his career.
Elias Sports Bureau Stat of the Night
The Spurs now have the winningest trio in NBA postseason history. Tim Duncan, Tony Parker and Manu Ginobili have played in 111 postseason wins together, one more than Magic Johnson, Kareem Abdul-Jabbar and Michael Cooper.
Looking Ahead
The Spurs are 18-2 in best-of-7 series when leading 2-0 in the Gregg Popovich era. Their only series losses came in the 2004 conference semifinals versus the Lakers and 2012 conference finals versus the Thunder.
Teams that take a 2-0 lead in a best-of-7 series with double-digit wins in each game go on to win the series 95 percent of the time (77-4).